The widely acclaimed, seventh annual "Beaver Tales" storytelling event returned to Beaver on Friday, Sept. 25, 2015, sponsored by the Beaver Area Heritage Foundation.
As a first this year, two of Beaver Tales' favorite story tellers, Lynn Ford and Len Cabral, returned to delight students at College Square and Dutch Ridge elementary schools.
Story teller Michael Parent entertained children at Saints Peter and Paul and at Beaver Junior High School. His performance at Beaver Area Memorial Library took patrons on a trip down memory lane with both story and song.
The culmination of the eventful day of storytelling was the evening concert at the gazebo in Irvine Park. The weather was perfect for an autumn evening of stories under the stars, and brought a crowd of about 600 with chairs and blankets in hand. Many were returning with anticipation and others were there for their first time, such as the Grahms, a young couple and their twin daughters from Zelienople.
Once again this year's Beaver Tales event was a success because of the many volunteers who return every year to ensure that this gift continues for our school children and our community.
With international storytellers coming to Beaver who have performed all around the world and the educators, students and community-minded families whom they attract, Beaver Tales will certainly continue to be an important element of the Heritage Foundation's educational mission in the future.
The Heritage Foundation extends its gratitude to the Miller Family Foundation for its continued support, Felicity Farms Bed-and-Breakfast, the Dutch Ridge and College Square PTAs, The Women's Club of Beaver, volunteer Shirley Pow and the Friends of Beaver Tales for their invaluable financial support.
About This Year's Storytellers:

[ Website ]

Lyn Ford – a selfproclaimed "teller of homefried tales." She is a fourth generation, nationally recognized storyteller whose Affrilachian (African American and Appalachian) roots inspire her stories that are filled with heart and tradition. These tales are Lyn's tribute to her favorite storyteller, her father, Edward M. Cooper, who was the best storyteller Lyn ever heard, and the worst cook in the family (with a few exceptions, like barbecue, dandelion greens, and homefried potatoes!).

[ Website ]

Len Cabral – is an internationally acclaimed storyteller who has been enchanting audiences with his storytelling performances at schools, libraries, museums and festivals since 1976. A great grandson of a Cape Verdean whaler whose grandparents immigrated to America from the islands off the coast of West Africa, Len's strong Cape Verdean ancestry comes alive in his exuberant retelling of African, Cape Verdean, and Caribbean folktales as well as original stories and tales from around the world.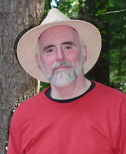 [ Website ]

Michael Parent – A native Mainer of French-Canadian descent, he has performed as a storyteller and singer, in both English and French, throughout the U.S. and beyond, since 1977. Growing up in Lewiston, Maine, he was surrounded by family that spoke both French and English and, today, he draws upon this FrancoAmerican heritage to perform a unique blend of bilingual stories, songs and one-man shows. Distractions fall away as he lures listeners into his tales and heart, and although he is alone on stage, the characters he creates through his stories fill the room.