When:
July 1, 2018 @ 7:00 pm
2018-07-01T19:00:00-04:00
2018-07-01T19:15:00-04:00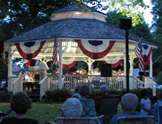 In years past, the Heritage Foundation has helped sponsor a free patriotic music concert at the gazebo.
Notable Independence Day celebrations over the years have included a popular "walking tour" of the Beaver Cemetery and a tour of notable local buildings of historic interest. The cemetery tours, led by Heritage Foundation historians, have visited the graves of Beaver notables Senator Matthew Stanley Quay, industrialist John Dravo, Pennsylvania Supreme Court Chief Justice Daniel Agnew and other fascinating personalities of the past. The very first cemetery walking tour, conducted to high acclaim, was held in 1978 and repeated in 1985, 2002 and 2005.