When:
February 18, 2020 @ 7:00 pm – 9:00 pm
2020-02-18T19:00:00-05:00
2020-02-18T21:00:00-05:00
Where:
Beaver Station Cultural & Event Center
250 East End Avenue
Beaver
PA 15009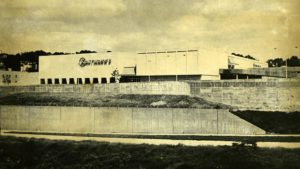 Robert Stakeley will present a talk entitled "The History of Kaufmann's Department Store: Everything Under the Sun."  Kaufmann's is synonymous with shopping, whether you favored the flagship store, which was in downtown Pittsburgh, or visited one of the many suburban stores.  We've all shopped there (and probably spent quite a bit of time and of course, money there!), but how well do you know the history of this iconic Pittsburgh department store?  This presentation explores the evolution of the store and family from both a business and philanthropic perspective.  Discover how Kaufmann's became a staple in the western Pennsylvania community; why we still meet under the Kaufmann's clock; and fondly reference the Tic Toc restaurant, Vendome, and the bargain basement. 
The presentation will include many never-before-seen-nor-published images and archival material.  Robert has many fond memories of shopping at Kaufmann's.  While visiting the downtown and free-standing McKnight Road stores, plus several other locations, his mother taught him the craft of shopping, which meant looking for the best merchandise at the very best price.  Those attending the program are invited to share with the audience their stories and memories of Kaufmann's.  Individuals are also invited to bring in with them mementos that they may want to share with the audience in a "show & tell" format. 
Robert O. Stakeley is the History Center Affiliates Program (HCAP) Manager at the Senator John Heinz History Center (History Center), where he provides various levels of instruction and guidance for a diverse patron or member audience.  He oversees the Affiliates Program (HCAP), a program that assists 400 plus historically-minded organizations, including historical societies, museums, libraries, preservationist groups, community councils, churches, theaters, etc., in achieving their goals by helping them in various capacities through advocating best practices.  Previously, Robert had served as the Docent Program Coordinator at the History Center, which involved providing training for the more than seventy-five History Center docents (teachers or tour guides).  Robert is a former librarian, archivist, and educator who has extensive experience in collecting, preserving, and providing access to collections.  This work has included delivering reference services; conducting research; accessioning, processing, digitizing, and cataloguing of collections; publishing of research, including articles, digital stories, oral histories, and transcriptions; and the proper handling and displaying of collections. 
After graduating from Shaler Area High School, he attended Duquesne University where he majored in both biology and history and minored in both sociology and biochemistry.  He is married to his middle school / high school sweetheart, Kelly, and they have one son, Logan, who is currently in seventh grade.  They enjoy taking spur-of-the-moment weekend road trips and vacationing in the South.  They reside (where else?) in the North Hills, where they were both born and raised, which represents a common or typical Pittsburgh story, correct? 
As a life-long educator and learner, Robert enjoys working with people of all ages, especially students, in providing access to primary and secondary sources.  His approach to history and in "bringing collections to life" is simple – establish a connection and make it fun.