When:
April 18, 2023 @ 7:00 pm – 8:30 pm
2023-04-18T19:00:00-04:00
2023-04-18T20:30:00-04:00
Where:
Beaver Station
250 East End Ave
Beaver
PA 15009

Contact:
Beaver Area Heritage Foundation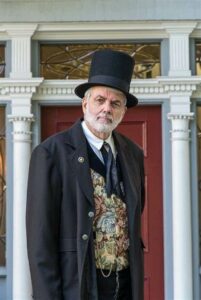 Bob O'Connor will present an authentic, historical impersonation of Ward Hill Lamon, Abraham Lincoln's bodyguard. He will explain how Lamon and Lincoln became friends and law partners and when Lamon helped Lincoln gather the nomination in the 1860 Republican National Convention. How Lamon became Lincoln's unofficial bodyguard while serving as U.S. Federal Marshal of the District of Columbia and where he was on the night that Lincoln was shot at Ford's Theater.
Bob O'Connor is an author, historian, and researcher who lives in West Virginia. He has portrayed Abraham Lincoln's bodyguard since 2007 and has written over two dozen Civil War books. He is retired and a full-time author. He has been named finalist four times in national book competition. 
Bob O'Connor will have his two Lincoln books available for sale.
This event is free and open to the public. Bring a friend!