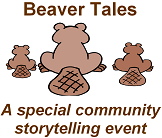 The widely acclaimed "Beaver Tales" storytelling event will return to the Beaver Area on Friday, Sept. 16, 2011, with four all-new storytellers to share a sense of wonder for audiences of all ages.
The big event, "Ghost Tales and More," will be held at the Gazebo in Beaver and will get underway at 7 p.m. Be sure to bring blankets and/or comfortable lawn chairs. The storytellers' books and CDs will be available for purchase. All events are free.
In the morning and early afternoon, all four tellers will be in Beaver area schools: Linda Goodwin and Alan Hoal will enrich the day of Beaver Area Middle School's seventh graders, while Len Cabral and Megan Hicks will delight the students of all grades at Dutch Ridge Elementary School. At both schools, the storytellers will visit classrooms to connect on a personal level with their young audiences. One teller will entertain adults at a luncheon in the Beaver Area Memorial Library at 1 p.m. Tickets go on sale at the library in early August; only 30 tickets will be sold.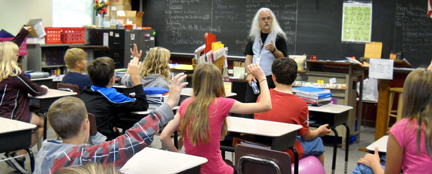 A 2010 storyteller holds Beaver Area students rapt with attention
Plans are underway for a Saturday morning workshop open to teachers, librarians, future storytellers and interested persons. For more information contact the Beaver Area Heritage Museum at 724-775-7174.
Thanks to funding provided by the Blanche Shaw Fund, Beaver Borough Festival Committee and the Beaver Area Heritage Foundation, the community will once again enjoy this family event at no charge. Rain location will be the Beaver Area Middle School High School Auditorium.
About this year's storytellers – their initial performance with Beaver Tales:

[ Website ]

Len Cabral is an internationally acclaimed storyteller who has been enchanting audiences with his performances since 1976. He is a great grandson of a Cape Verdean whaler whose grandparents immigrated to America from the islands off the coast of West Africa. His strong ancestry comes alive in his exuberant retelling of African, Cape Verdean and Caribbean folktales as well as original tales from around the world. He has performed throughout the United States as well as Ireland, Belgium, Austria, Holland and Canada. A winner of numerous awards, he has authored books and CDs for all ages and is the recipient of the National Storytelling Network 2001 Circle of Excellence Oracle Award.

[ Website ]

Linda Goodman was born in the Appalachian Mountains of Virginia, where she learned the art of storytelling from her father, a former coal miner who himself was a master yarn spinner. She began writing her own stories while she was in elementary school and continues to be a prolific writer to this day. She has been entertaining audiences throughout the country with her original stories, traditional tales, and monologues ever since. Her works are known for their "Southern Appalachian" flavor, and her tape, Jessie and Other Stories,has been aired on The Story Tree, a Tennessee-based program heard on National Public Radio.

[ Facebook ]

Alan Hoal lives in Cary, NC and has been involved with promotion and preservation of storytelling for more than 20 years. He and his wife are founders of three storytelling festivals in Virginia and North Carolina. He is the winner of the Virginia Tall Tale Competition as well as the North Carolina Bold Faced Liar's Showdown where he has also won the People's Choice honor. He loves to tell folktales, literary stories and personal stories (with a little embellishment). He has an energetic and animated storytelling style that holds the audience captive throughout his performances.

[ Website ]

Megan Hicks survived the Baby Boomer with her sense of humor intact. With equal measures of talent and charisma, she delights children, inner children, imaginary friends and grownups with her unique take on the storyteller's art. A favorite of audiences and organizers throughout the Mid-Atlantic, storytelling has taken her from juvenile detention centers to the FBI Academy, from Punxsutawney to Perth (Western Australia) to Peru. In 2000, she won the National Storyteller of the Year. In 2002 she released her first CD, Groundhogs Meet Grimm, which received a Parents' Guide to Children's Media Award and a Storytelling World Honor award. She lives in Fredericksburg, VA.