An Education Center for Students and Adults
The log house on the grounds of the award-winning Beaver Area Heritage Museum is a center for education and demonstrates the lifestyle and everyday living conditions faced by typical frontier families circa 1802.  The interior focus is the kitchen, which was the center of pioneer family life, with authentic furnishings and fireplace accessories, and the exterior emphasis is on the herb, kitchen and flower garden. The log house has become a mecca for school and community groups and visitors, and is another shining reason why Beaver is "someplace special."
The structure contains many elements of important local history which serve as excellent examples of adaptive re-use. Every detail has been carefully considered.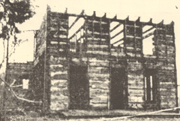 Saving and Preserving the Original Structure – The house – originally located at the corner of Buffalo Street and Georgetown Lane – was donated to the Heritage Foundation by the late John Skocich in 1996. When the building was being dismantled at the time, hand-hewn logs were discovered beneath the red clapboard siding. Mr. Skocich graciously donated the logs to the Heritage Foundation if there was interest in preserving them for future use.
Volunteers carefully dismantled and catalogued each and every log. Metal number tags were nailed to each as it was being removed, and the entire pile was bundled onto a flatbed trailer (also loaned by Mr. Skocich) and removed to a Beaver Borough garage.
The Pennsylvania Historical and Museum Commission evaluated the building to estimate its possible age. It was learned that the building probably dates to as early as 1790, and was built in two stages, with the second floor having been added in 1865 or 1870 when various other alterations were also made.
It was determined that removal of the whole building intact was impractical, especially since the back walls were not supported by logs. A not insignificant part of the salvage was the removal of the thousands of nails — large and small — driven into the logs over 200 years.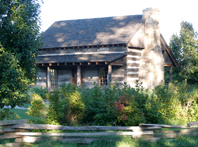 Reconstructing the House – In 2000, with a generous contribution from the P.M. Moore Foundation, the log house became a reality. Plans were drawn and decisions made as how to best use the house for student education.
Some compromises were agreed upon at the outset. For one, the house would not be reconstructed as a two story structure, since this was a later adaptation, and also because the materials for the back walls and roof were not available to us. Also, it was deemed practical to create a basement foundation, to provide useful storage space at little cost while not affecting the outward appearance of the building.
At the outset, it was estimated that reconstruction would cost about $50,000. As work progressed, this appeared to be a reasonably accurate estimate. With the initial costs having been met, the Moore Foundation again stepped forward with a second grant making possible completion of the entire project without having to resort to other types of financing.
To cap the Borough of Beaver's Bicentennial, the museum opened its beautifully proportioned and authentic log home on Sept. 22, 2002.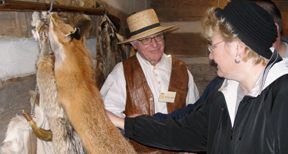 An Educational Center for Students and Adults – The log house and gardens have emerged a leading educational facility in the region. Many hundreds of elementary age students spend a day here each spring and autumn as part of their formal social studies education.
As well, the site is a "must see" for horticulturalists. Plantings of native grasses, wildflowers and herbs — Switchgrass, Bergamot and Wormwood, among others — demonstrate a natural setting typical of a frontier homestead. The goal is to help guests take a 200-year step back in time as if they were standing in a clearing of a dwelling, surrounded by vegetation, in an otherwise heavily wooded wilderness. 
Features of the Restored Log House
Log structure – the logs are hand-cut from local oaks. The largest are 14 inches high, 8 inches thick and 24 feet in length. Observers can still see axe marks from the original wood workers.
Cedar shake roof – historically accurate, hand-split shakes made by artisans in the original style.
Stone fireplace and chimney – made of stones primarily salvaged from the Beaver County Jail, demolished in 2002. They were hand-laid by skilled Amish artisans from nearby New Wilmington.
Chinking between logs – comprised of an exceptionally fine inner core of fiberglass insulation cemented on the inside and outside by mortar. This insulates the walls of the house and keeps it more comfortable year-round.
Working fireplace – demonstrates pioneer-style cooking. The stone smokebox header is 150 years old, salvaged and donated from the ruins of a pioneer house on a local farm. The unusually long stone is shaped with a sloping side inward to help provide a draft for the chimney.
Solid oak doors – are 1½ inches thick, joined in a tongue and groove fit, with no nails or screws, techniques that early craftsmen would have used.  The wrought iron strap hinges are hand-forged and function just as they did 200 years ago, so doors open and close with ease.
Wooden benches – the furnishings include plain wooden benches salvaged from the mess hall of the old jail, used for indoor and outdoor classroom presentations.
Windows – all are custom-made of original wavy "float glass" to fit the irregularly sized, existing openings.
Stone foundation and basement – the floor contains heated coils to help the room maintain constant temperature and humidity levels, to eliminate dampness and to permit storage. The iron stairway leading to the basement was once a fire escape on a Beaver building.
Loft –used for storage only, accessible through a trap door. In the original building, this area was sleeping quarters.
Vegetable and herb gardens – includes beans, squash, corn, potatoes, carrots and pumpkins, as well as dozens of herbs for culinary and medicinal purposes, named in memory of herbalist Wandalea Smith. The master plan was provided by Pashek Associates, with plantings coordinated by the Penn State University Master Gardeners Program.  The museum sells delicious jelly made from currants grown on-site.
Modern amenities and handicap-accessible facilities– Electric service is provided for the main room and basement, as well as hot and cold running water. Modern comforts also include a restroom as well as a wheelchair ramp to the front porch, made of a large stone from the jail.
For more information, please contact info@beaverheritage.org.