2007 EXHIBIT:
Priit Vesilind – The National Geographer
The Beaver Area Historical Museum's summer/early fall exhibit, "The National Geographer," honors Priit Vesilind, a longtime editor, writer, and photographer whose career at National Geographic magazine spanned 33 years. He is currently Managing Editor of CQ Global Researcher, an international affairs online magazine of the Congressional Quarterly in Washington.
Vesilind and his family were war refugees from Estonia who emigrated to the United States in 1949, settling in Beaver. He graduated from Beaver Area High School in 1960 and Colgate University in 1964, served four years of active duty as an officer in the U.S. Naval Reserve, and received an MA in photography from the S. I. Newhouse School of Public Communications at Syracuse University.
He began his journalism career as a sports writer for the Marietta Daily Journal in Georgia, and was named Outdoor Editor and columnist for the Atlanta Journal-Constitution a year later. After graduate school Vesilind became a writer-photographer for the Providence Journal in Rhode Island.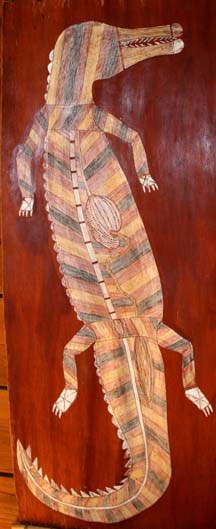 Aboriginal painting on
eucalyptus bark, from
Arnhem land, Australia,
about 4×2 feet in size
Vesilind joined the staff of National Geographic in 1973, as a writer of photo captions. He served as a copy editor, Senior Writer, and Senior Assistant Editor for Adventure and Expedition stories before taking early retirement in 2002. Still an active contributor to the magazine, he has produced nearly 40 articles that range from the Atacama Desert of Chile to the fall of the Berlin Wall.
One of Vesilind's focus areas has been the former Soviet Union and the captive nations of Eastern Europe, and in 2002 he was decorated with the Third Order of the White Star by the President of Estonia for his contributions to the cause of Estonian independence.
Another of his areas of interest has been underwater archaeology and exploration. A scuba diver, he has worked extensively with marine explorer Robert Ballard on expeditions to the Mediterranean and Black Seas.
He has dived on the USS Arizona in Pearl Harbor, and joined researchers in probing the underground caves and rivers of ancient Mayan sinkholes in the Yucatan. He has taken part in expeditions to find a lost Japanese submarine in the Atlantic, traveling more than four miles deep in a Russian submersible. Most recently, he chronicled the find of the treasure-laden steamer, SS Republic, with Greg Stemm of Odyssey Marine Exploration.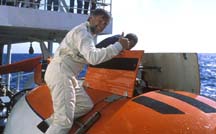 Priit Vesilind entering the Mir submersible, about to descend four miles into the ocean
Vesilind's books include "On Assignment USA," which relates in-the-field tales of National Geographic journeys, "Horse People," a global look at the relationship between men and horses, and "Lost Gold of the Republic," the story of the wreck and excavation of the Civil-War era steamship that served both sides of the conflict.
Today he lives in Manassas, Virginia, on the banks of Bull Run, with his wife, Rima, a high school principal. They have three children and three grandchildren.