2011 SUMMER EXHIBIT:
Beaver Valley Album
A Display of Vintage Archival Photographs of Beaver and Surrounding Communities from the Arnold McMahon/Graule Studios Collection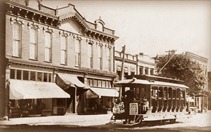 Beaver business district, early 1900s
The Heritage Museum's summer fall 2011 display, Beaver Valley Album, features a visually stunning array of vintage, archival photographs of Beaver and surrounding communities.   
Most of the images are from the Arnold McMahon/Graule Studios Collection in Rochester, comprised of historic photographs and negatives from the 1800's to present day. This large collection, curated by Kevin and Barb Cooke, includes early Beaver County businesses, architecture, people, events, railroads, steel mills and various industries (such as J&L Steel and Fry Glass).  It is the largest archive of Beaver County photography, housing several thousand images.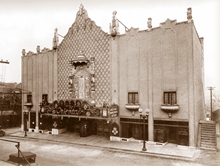 Rochester's old Oriental Theatre
Beaver Valley Album highlights more than 70 prime selections of images such as a barber shop in Freedom circa 1900, a Baby Bear Bread truck in Beaver in 1933, the last wagon used by Keystone Bakery in West Bridgewater in 1917, Mutual Union Brewery in West Aliquippa in 1910, and a storm scene near Beaver County Courthouse in June 1924. 
Other photographs in the exhibit are on loan from the Highland Laurel Gallery and its owner Adam Fitz, who helped curate the layout of the exhibit with museum trustees John McLaughlin, Robert O'Dell and Mildred "Midge" Sefton.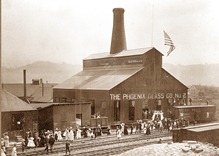 Monaca's Phoenix Glass, in its early days
A handful of photos are culled from the museum's own archives. 
A super-enlarged bird's-eye map of Beaver in 1900, showing all of the houses standing at that time, encourages visitors to find his or her home site, and see all of the vast changes that have taken place over the past century-plus of time.
McMahon is best known for his three books, Beaver County Album volumes I, II and III, showing hundreds of historical local photographs reflect the enduring vision that he and his wife Elma had for sharing their faith with their community: 
"Let something …said or done, Oh Lord, remain when I have gone, that people may have seen through me, your love lives on and on," they wrote in the preface of their third and last volume.  McMahon also expressed his gratitude to the photographers and owners of the photos he published, stating, "Our love of the past, and Beaver County has been satisfied… by the unselfish loaning of historically correct and excitingly composed photos…, a legacy of beautiful historical photographs equal to the work of any!"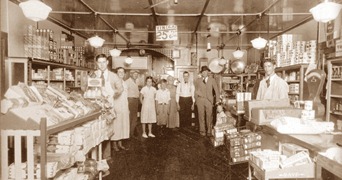 Grocery in Monaca, early 1900s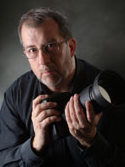 Kevin Cooke
Graule Studios
Sadly, McMahon passed away in 1992 at the age of 75.  Elma outlived him by 16 years, and died in 2008.
Graule Studios owner Kevin Cooke, who owns the McMahon Collection negatives and prints, continues this long legacy by sharing his treasures with the public through our display.  Cooke has been cataloguing the McMahon images and hope to have them available soon for viewing on the studio's website, www.Graule.com.  The studio also offers historical collage prints of local communities such as Beaver, Monaca and Rochester, among others.
Museum trustee John McLaughlin is enthusiastic about display, noting that such a comprehensive exhibit is possibly only through the generosity of local businesses such as Graule Studios and Highland Laurel Gallery, in partnership with a committee of dedicated volunteers, who share in the McMahons' mission of preserving and passing along our special community's rich heritage.
— by Paula Soto