2012 SUMMER-FALL EXHIBIT – APRIL 28 THROUGH DECEMBER 2
The Civil War in Beaver
On the heels of its record-breaking "Civil War in Pennsylvania" spring 2012 exhibit in partnership with the Senator John Heinz History Center, the Beaver Area Heritage Museum has launched its own display for the balance of the spring and summer, "The Civil War in Beaver."

Beginning April 28 and lasting through the end of the year, this free exhibit highlighted the Civil War story of the Beaver Area as well as the war generally and how it affected local citizens.
Eaton Corporation was local corporate sponsor of the display.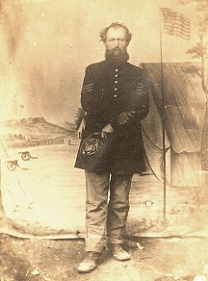 Sgt. David Scott
Scott Collection of Wartime Letters – The core of "The Civil War" display is the fabulous "Scott Collection" of wartime letters, photographs, equipment, keepsakes and other memorabilia of the Scott and McKee families of Brighton Township. There are more than 1,000 letters in the collection, written between 1786 and 1953. All have been preserved by museum volunteers in special albums, with about 850 transcribed and retyped so they are easier to read, and placed into searchable indexes highlighting family names and places of interest. About 200 of the letters were written during the Civil War and have never before been available to the public.
William and Nancy (MeKee) Scott had nine children, among them David W. Scott, a sergeant with the 140th Pennsylvania Volunteer Infantry.  During the war, he carried what he called a portfolio which contained items such as paper, a quill pen, locks of keepsake hair, wool, thread and needles to repair his clothing, a comb, and water proof bags.  He also carried a handkerchief signed by his fiancée Caroline Barclay. His letters contain descriptions of many subjects such as camp conditions, hard days of forced marching, and wild St. Patrick's Day celebrations.

David Scott letter, Falmouth, Va., 1863
After being wounded in the jaw at Gettysburg on July 2 1863, Scott was captured by the Confederates.  Unable to speak, he communicated with the rebels by writing short notes on a piece of paper, which is part of our display.  After a charge by the Union forces on the same day, he was returned to the Union lines and continued to communicate on that same piece of paper.  He saved one of his teeth and a fragment of his jaw.  He returned home and spent time in a Pittsburgh hospital.  After marrying Caroline Barclay, Scott worked the family farm and served as a Beaver County Commissioner for a few years.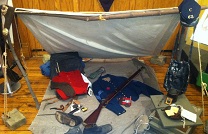 Authentic Civil War soldier's camp
Authentic Soldier's Camp Gear – Thanks to the generosity of Old Economy and the Buffington family, an elaborate, authentic campsite is on display, as would have been experienced by a typical private in the Union Army. This includes a lean-to tent, bedding and blanket, uniform and boots, mess gear and fighting equipment.

Beaver's Matthew Quay, winner of the Medal of Honor
Medal of Honor Recipient Matthew Stanley Quay – When the war erupted, Matthew Stanley Quay was serving as prothonotary of the County of Beaver. He resigned and became a lieutenant in the 10th Pennsylvania Reserves. He late was appointed assistant commissary-general for the Commonwealth, with the rank of lieutenant colonel. In August 1862, he was commissioned colonel of the 134th Pennsylvania Volunteer Infantry. What is so unusual about his military service is that in late 1862, he became ill and was discharged from his regiment. However, with no obligation to do so, he played a heroic role in the bloody assault on Marye's Heights at the Battle of Fredericksburg in which claimed more than 12,600 Union casualties. For his bravery, he was awarded the Congressional Medal of Honor. Later, Quay became a United States Senator and chairman of the Republican National Committee.

Richard Roberts
Col. Richard Roberts: A Gettysburg Casualty – Beaver attorney Richard P. Roberts, Colonel of the 140th Pennsylvania Volunteer Infantry, was an eloquent speaker on any subject, especially distinguishing himself with brilliant patriotic addresses at the outbreak of the war. At the Battle at Gettysburg, in action near the famed Wheat Field, at the head of the 140th Pennsylvania Volunteers, and in temporary command of his entire brigade, he helped drive the enemy from the woods and ridge beyond the famed but deadly Wheat Field. Tragically, though, Roberts was shot and fatally wounded in the bloody action, one of 263 men of the regiment who died that day. He rests today in the Beaver Cemetery. At a meeting of the bench and bar of Beaver County, held just two weeks after Roberts' death, a Committee on Resolutions made an elaborate report, stating:
Resolved, That in all the relations of life, whether public or private, social or official, as a gentleman of sterling integrity and ability, Colonel Roberts has secured for himself the confidence and esteem of his fellow citizens, and held a high position as a brave, eloquet, energetic, generous and kind-hearted man.
Fear of Morgan's Raiders – As the Civil War raged in 1963, Confederate General John Hunt Morgan with 2,400 enemy cavalrymen crossed the Ohio River and invaded Indiana.  Morgan had taken this action on his own initiative, without any orders from his superiors, apparently feeling that his raid would encourage anti-war sentiment in the North.  While wreaking havoc, his troops lived off the fat of the land, gathering much-needed supplies as they rode on east into Ohio and toward Beaver.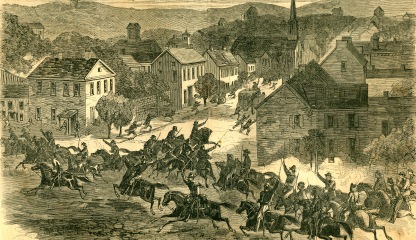 With most of their able-bodied men away at war, Beaver residents feared the prospect of terrifying raids by Confederates, such as this one by Gen. John H. Morgan in Ohio. (
Harper's Weekly
, Aug. 15, 1863)

Local recruiting poster
On Sunday, July 26, 1863, word arrived in Beaver that Morgan and his raiders were headed up the Ohio River toward town.  As this warning reached citizens during the Sunday morning church hour, announcements were made in all of the Beaver churches and worshipers were dismissed to assist the populace in preparing to meet the enemy.
There was no armament in Beaver, aside from such guns as individuals may have owned, except for an old French brass cannon from the old days at Fort Duquesne. The cannon, kept at the foot of College Avenue overlooking the river, was fired each year on the Fourth of July.  On this particular Sunday when it was needed, it was found that the barrel was jammed with cannon balls.  The cannon was taken to Dan Reisinger's blacksmith shop at the corner of Fourth and Market Streets, where work started to dislodge the jammed balls.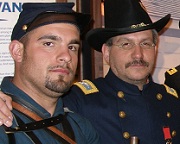 63rd Pennsylvania Volunteers re-enactors
Another defensive suggestion was that iron hooks be fastened to poles and used by defenders hiding in the woods to pull the cavalrymen from their horses.  Another suggestion was to place beehives in the trees and drop them into the midst of the raiders. Another action was taken in Beaver that day to protect county records in the Court House.  Volunteers helped county officials remove the records and hide them in a cave (or quarry) on the hillside.
All of these preparations came to naught when it was learned that the rebel raider and his 364 exhausted men had surrendered that same day at Salineville, Ohio, near Wellsville, about 25 miles west of Beaver.
Re-enactor Campouts – 63rd Pennsylvania Volunteers – During the run of the display, re-enactors from the 63rd Pennsylvania Volunteer Infantry periodically will camp out on the museum's campus on weekends to demonstrate a soldier's way of life to the public.
Hours – Saturdays 10 a.m. to 4 p.m., and Sundays 1 p.m. to 4 p.m.
We invite you to visit the museum to see this exciting exhibit!