L-R: Midge Sefton, Heritage Foundation; Beaver Mayor Tom Hamilton; police officer
Jim Degori and chief Dan Madgar; and Sarah Perry of Columbia Gas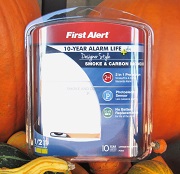 BEAVER, PA, Oct., 21, 2015 – Thanks to a Columbia Gas of Pennsylvania donation of $13,300, the Beaver Borough Police and Beaver Area Heritage Foundation distributed free FirstAlert combination carbon monoxide and smoke detectors to Beaver County families in need this Halloween.
"Carbon monoxide is an odorless, tasteless, non-corrosive gas that can be a by-product of the combustion of ordinary fuels," explained Columbia Gas of Pennsylvania Health Safety and Environmental Coordinator Nicholas Joseph. "Carbon monoxide can become very poisonous if it is not vented properly and if allowed to accumulate without sufficient oxygen."
Of approximately 1,200 detectors distributed statewide, nearly 400 were available for pick-up at the local Beaver, Industry and Vanport Volunteer Fire Departments.
"Throughout the year we respond to multiple emergency, carbon monoxide calls," said Beaver Borough Police Detective James Degori. "Because you cannot see, taste, or smell carbon monoxide it is extremely important for resident's to have a carbon monoxide detector. Through the donation we are confident many families who could not afford a carbon monoxide detector, now have access to one."
For more information on carbon monoxide safety, including what to do if carbon monoxide is in your home and steps to take if you believe carbon monoxide has accumulated, please visit www.ColumbiaGasPA.com/carbon-monoxide.
About Columbia Gas of Pennsylvania – Columbia Gas of Pennsylvania delivers clean, affordable and efficient natural gas to approximately 421,000 customers. With headquarters in Canonsburg, Pennsylvania, it is one of NiSource's seven regulated utility companies. NiSource (NYSE: NI) is one of the largest fully-regulated utility companies in the United States, serving approximately 3.5 million natural gas customers and 500,000 electric customers through its local Columbia Gas and NIPSCO brands. More information about Columbia Gas of Pennsylvania and NiSource is available at www.ColumbiaGasPA.com and www.nisource.com.
#  #  #  #