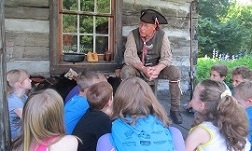 Re-enactor Larry Souleret holds kids spellbound with his frontier tales of long ago
First Graders Enjoy a Glimpse of Frontier Life at the Heritage Museum's Log House Campus
Led by Heritage Museum education trustee and retired elementary school teacher Margie Carver-Stuck, the log house campus hosted back-to-back morning field trips in late May 2013 for first graders from College Square Elementary School.
The students were supervised there by their teachers Becky McDowell and Janet Shaddick.
This initiative fulfills the core of the museum's mission to partner with local school systems and teach young local students that fascinating history is right in their own backyard, and to use the log house and grounds as a center for education.
Attractive coloring books entitled History by Trolley, specially prepared for student field trips at the museum and log house, generously were provided again this year by the Greek Catholic Union (GCU), a corporate member of the Beaver Area Heritage Foundation.
Writing afterward, first grade teacher Mrs. Shaddick said: "I want you to know how very much I appreciated the thought, time and effort that it took to put together the museum visit. I know you had to totally pull something new together for us, but by the kids' reactions … you are well on your way! My kids loved the trip! Allie said over and over, "This is the best trip!" Jonathon loved the corn meal mush. Everyone enjoyed the Indian and the firing of the gun. The trail guide was a hit! Thanks."
Mrs. Shaddick's students had an assignment to draw their favorite aspect of the field trip, along with a message on the back.
This webpage is a gallery of their artwork, including verbatim spellings of their comments. The original drawings are expected to be added to the museum's permanent collections.
For more information on how to schedule a field day event for your school system, please contact bahm1@verizon.net.
I like the Indian. He can spek five difrent langwejes. I also like the trans. I raely like the subwaye tran. its raely like that. I also lik the raely fast tran. The bevr Msooum is the best.

Your Friend, Autumn

Thank you Mrs. Stuck. My favorite part was, tasting the sweet new food with syrup. I liked the Indian too. Thank you again Mrs. Stuck.

Your Friend, Gianna

I liked the indian. I like his tattoos A lot. Thank you for geting the indian to come.

Your Friend, Emma

 
 
 

The Indian was my favrite. Because he ……. is so cool and he tot me more abuot my counchry along time agowe.

Your friend, Allie

The Indian was the best! I also liked the person on the porch too! I liked the gril in the woodin cavin. And the trans.

Your Friend, Elle

I liked when the gie Shot the gum. it was cool.

Your Fraiend, Brandon

 
 
 

Hi Mrs. Shuck. I had lot uf fun. I liket the Indian the most. Please send back.

Your Friend, Isaac

I really liked the Indian. He told us about what they ate and wore. He also said in the old days there were big big trees!

Your Friend, Lizzy

I liked the log Cadin becase I got to trie sumthing New and I Liked it and I ate it all.

Your friend, Maddox

 
 
 

My favorite part was the Indian. And the porch to. And the chrans to. And I like inside the house.

Your Friend, Hannah

My favorite part was the food. Thank you Mrs. Stuck. But you can make the syripe sweeter plaece.

Your Friend, Zoey

I liked the train and indian. And the log house. It was the best field trip, Because it had an indian. And when he shot the gun.

Your Friend, Ryan

 
 
 

I loved the ink bottel in the house. I loved the man on the front porch on the house most the gun. The Indian was cool!!!!!

Your Friend, Caden

I like the trans alot. The trans had hores. On them. it was Cool!

Your Friend, Aubrey

I liked the tranes and. the flint and steel. and the Indian.

your Friend, Jonathon

 
 
 

I Loved the Log house. I Loved when the guy told us stuff back in the days. and shot the gun!

Your Friend, Aubree

My favorite part was seeing the trains. It was fun! It melted my heart. Because I love trains and dinosaurrus too.

Your Friend, Parker

I liked the Indian he was cool! because he had makeings on his fase!

Your Friend, Domenick

 
 
 

The Part about the Indian that I liked was that he had a mirror on a tree. The part about going into the muesm was the timeline.

Your Friend, Trent

I like the Indian and the trains too. I am sorry that I didn't try the food. I might come again in the Summer.

Your Friend, Corbin

Ilike the Indian and the trains and the ink in the house and like the paintings in the house. and the gun.

Your friend, Roman