An Intimate, Unforgettable Setting
for Your Wedding Day
At the Award-Winning Beaver Area Heritage Museum
Rebuilt from the original logs from the Revolutionary War Fort McIntosh in Beaver, the log house of the Beaver Area Heritage Museum demonstrates the lifestyle and everyday living conditions faced by typical frontier families circa 1802.
Spring, summer, fall and even winter — the log house is a perfect setting for an intimate, memorable wedding and reception to celebrate with your family and friends.
Features: Inside, bench seating for 30 to 40 guests. Outdoor lawn, 75 to 100 people. Also includes restroom as well as front and back porches.
From virtually any angle, the log house and grounds are picturesque and a unique background setting for your keepsake photography to last a lifetime.
Furniture: Ambassador Tent Rental is the Heritage Museum's exclusive contractor use for tents, tables and chairs. We will provide you with the contact information.
Please know that all equipment, entertainment and catering services are separate from and in addition to the facility rental and must be arranged for and paid for separately.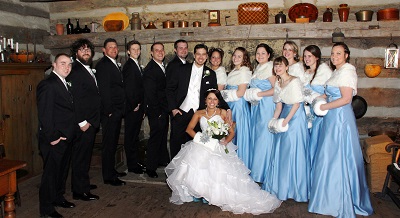 Care for the Property: Renters and their guests are asked to be sensitive to the historic nature of the spaces they are using and that this unique local museum space is fragile and irreplaceable.
The museum is easily reached from downtown Pittsburgh, the Pittsburgh International Airport, Interstate 376 and the Pennsylvania and Ohio Turnpikes.
Directions: Goole Maps Directions
Please visit our site for a complete walk-through to see our beautiful property and the variety of options firsthand for your once-in-a-lifetime event. Call (724) 775-7174 or email at info@beaverheritage.org to schedule an appointment for a tour.