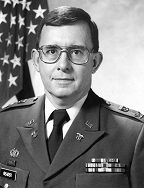 Retired U.S. Army Col. Robert E. "Ned" Reader II will be the keynote speaker for the Memorial Day commemoration ceremony at Beaver Cemetery on May 25, 2015, following the annual parade. Many local residents may remember his mother and stepfather, the late Anne and Ralph "Buss" Morton.
Parade Details – The parade, sponsored by the Beaver Area Heritage Foundation, will begin at 10:30 a.m. at Third and Beaver Streets. It will proceed along Third Street to the cemetery's Receiving Vault and Chapel where a formal program will take place honoring military veterans.
The parade will feature local veterans, Beaver Area High School Band and JROTC, including its Fife and Drum Corps. Two re-enactor groups, the Revolutionary War-era, First Co. Fort McIntosh Garrison and Civil War-era 63rd PA regiment will also march. Wreaths constructed by BCRC will be placed at the Memorials to remember those who sacrificed their lives for our Country. The parade will also include local fire departments, Scout Troops and area Little League baseball teams. Children are invited to ride their decorated bikes in the annual contest sponsored by Snitger's Bike Shop. All veterans, retired or active service, are invited to march or ride in the parade.
The Memorial Ceremony will feature additional remarks by master of ceremonies Walter McDermott, President of the Heritage Foundation, and Beaver Area Senior Class President, George Avdellas, who will recite Lincoln's Gettysburg Address. Patriotic music will be provided by the High School Band and Choir. The ceremony will conclude with a military salute performed by veterans and military re-enactors and the releasing of white doves.
About Col. Reader – he was raised in Aliquippa, graduated from Aliquippa High School in 1962 and Washington & Jefferson College in 1966 where he was enrolled in the Army's Reserve Officer Training Corps (ROTC) program. Upon graduation from ROTC summer camp at Fort Indiantown Gap, PA, he was commissioned a second lieutenant in the U.S. Army Reserve.
After his first year as a history teacher at Hopewell Area Junior High School Colonel (Ret) Reader married Gretchen Douglas, his high school sweetheart in June 1967. Several weeks later he reported for active duty at Fort Lee, VA where he attended quartermaster officer basic and supply officer training in preparation for his deployment to ASCOM City, South Korea in November 1967. While there he was a platoon leader, supply officer, mortuary officer, petroleum officer and executive officer in Company B, 13th Supply and Service Battalion (Direct Support).
Upon returning home, he was assigned to Fort Lee, VA as administration officer with the 36th Civil Affairs Company and as Chief, Visitor Services Branch, U.S. Army Quartermaster School. He completed his two-year ROTC active duty commitment in July 1969.
Upon return to civilian life he and Gretchen moved to Beaver, PA where they started a family; enrolled in graduate school at the University of Pittsburgh earning their Masters Degrees in Education (M. Ed); and continued their respective careers as high school teachers. He taught U.S. History and civics at Hopewell Area High School and Gretchen taught business education at Monaca High School.
Keeping his Army Reserve commission active after leaving active duty in 1969, during summers he served as an instructor in the Instructor Training Branch of the QM School. From June 1975 to September 1977, he commanded the 475th QM Company (Petroleum Supply), then located in Beaver Falls, PA. During his command tenure, the unit received a Superior Unit Award from the 99th Army Reserve Command (ARCOM) in Oakdale, PA.
In March, 1972, Reader accepted a position as Assistant to the Dean of Students at the Penn State Beaver Campus in Monaca where he remained until October 1977 when he accepted an offer to return to full-time active duty as a recruiting area commander with the 99th ARCOM.
In March 1979 he was assigned to the Pittsburgh District Recruiting Command (DRC) in Pittsburgh, PA as the Army Reserve operations officer and later as the executive officer. In July 1982 he was reassigned to the HQ, 99th ARCOM this time as a strength management officer. In August 1985 he left western Pennsylvania with his family for duty as a retention staff officer with HQ, Forces Command (FORSCOM) at Fort McPherson, GA.
In 1989, Reader was assigned to the Pentagon as a personnel policy integrator with Headquarters Department of the Army (HQDA). He was promoted to Colonel in June 1993 and assigned to the U.S. Army War College in Carlisle Barracks, PA as a Senior Army Reserve Instructor. He retired from active duty service in July 1995 just 20 miles from Fort Indiantown Gap, PA where he began his military career in 1966.
Reader is a graduate of the Command and General Staff College; Personnel Management for Executives (PME) Course; the U.S. Army War College, and the Sustaining Base Leadership and Management (SBLM) Course.
In March 1996, Reader returned to the Pentagon. This time he served as an Army civilian working for the Deputy Chief of Staff for Personnel G1 as the deputy team chief of the Personnel Contingency Cell in the U.S. Army Operations Center. He was responsible for ensuring the Army met its manning requirements in support of operational contingencies around the world.
In January 2000, Reader left the Pentagon to serve as Professor of Sustaining Base Leadership and Management and later as Professor of Command Programs at the Army Management Staff College, Fort Belvoir, VA. He retired from civil service in December 2010 after 44 years of Army service.
Reader's military awards and decorations include the: Legion of Merit; Meritorious Service Medal w/2 Oak Leaf Clusters; Army Commendation Medal w/1 Oak Leaf Cluster; Army Achievement Medal; Army Reserve Components Achievement Medal; National Defense Service Medal w/Bronze Service Star; Armed Forces Expeditionary Medal; Korea Defense Service Medal; Armed Forces Reserve Medal w/Hourglass Device; Army Service Ribbon; Army Staff Identification Badge; and the Army Superior Unit Award.
His Army civilian awards include the: Superior Civilian Service Award (two); Achievement Medal for Civilian Service; Commander's Award for Civilian Service; and Army Staff Identification Badge (2nd award).
Reader and his wife are retired and live in Sun City Hilton Head, Bluffton, SC where they pursue active retirements. They are very proud of their two sons, Jeffrey (Greenbelt, MD) and Douglas and his wife Dianna (Virginia Beach, VA) with their two sons Thomas (age 8) and Tyler (age 5).