2015 FREE EXHIBIT – CLOSED
Pedaling Thru History
Remember your first bike and the freedom you had to cruise the town! Whether riding "no hands" or "popping a wheelie" riding to the pool, or to the market, bikes were a part of growing up. The Beaver Area Heritage Museum is excited to provide an opening display for 2015 of iconic bikes spanning from the 1940s thru the '80s along with a special tribute to Beaver's own Snitgers' Bicycle shop and its longtime owner Jim Snitger.
The small ranch style shop originally on Commerce Street is now located on Beaver's retail district and is celebrating 64 years of service to bike enthusiasts.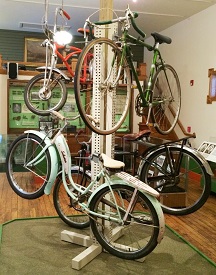 Paramount – Early 1970s – Reintroduced as a racing model in the early 70's, the history shows that Schwinn & Co. had participated in racing since its founding in the 1890's. It focused on building racing bicycles and had added recreational bikes as market demands grew. When mass-produced balloon-tire bicycles in the 1930s were the rage, many people lost the connection with its racing heritage.
Schwinn Phantom – Introduced 1949-1959 – Truly a classic and anyone who had one was the envy of the neighborhood! This balloon tire bike offered luxury equipment including chrome fenders, cycelack, spring fork, custom colors, key locking front fork, glass reflector and many more.
Orange Krate Sting Ray – Late 1960s – Blast off and move out to a whole new world of cycling! Incorporating StingRay design with features including gears, 5 speed stick shift, spring suspension, bucket style saddle, caliper brakes. Other versions included Lemon Peeler-kool lemon, and Applekrate-kool red. The precursor to today's BMX racing bikes.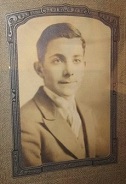 Balloon Tire Bike or Cruisers – Popularized in the 30s and 40s – Cruisers were popular and gained postwar success. Their combination of substantial weight (some models weighing over 50 pounds), single speed mechanicals, and wide tires made the bicycles primarily suited to flat terrain. They were popular with paperboys and bicycle couriers and are sought after today by collectors and enthusiasts alike.
Hours – Saturdays 10 a.m. to 4 p.m., and Sundays 1 p.m. to 4 p.m.
Cost: Absolutely free. Donations welcome.
Gift Shop – The rich heritage of Beaver is represented in a wide array of treasured gifts, keepsakes, souvenirs and high quality reproduction items. You may also be interested in a wide range of our award-winning books and publications.
Corporate Sponsors:
Gold: Strassburger, McKenna, Gutnick & Gefsky
Silver: c3controls, Heritage Valley Health System, Huntington Bank
Bronze: Eaton Corporation