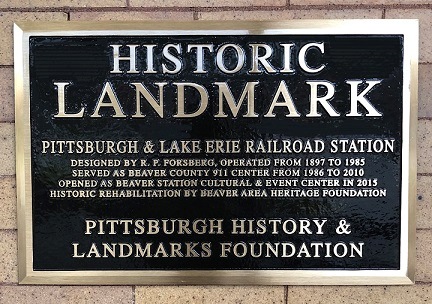 BEAVER, PA, Nov. 6, 2019 – – The prestigious Pittsburgh History & Landmarks Foundation has bestowed historic landmark status on Beaver Station Cultural & Event Center and the Beaver Area Heritage Museum, both former buildings of the Pittsburgh and Lake Erie Railroad which have been restored to widespread popularity and acclaim. Historic Landmark plaques have been mounted on both buildings within the Beaver Area Heritage Foundation campus along East End Avenue in Beaver.
"We are pleased that the Heritage Foundation has done a tremendous job in restoring the former railroad buildings and converting them into a cultural and event center and museum," said PHLF President Arthur Ziegler. "We especially appreciate the dedication and commitment of the Foundation to the preservation and reuse of these historic train properties, which are contributing to the economic revival of Beaver and Western Pennsylvania."
Founded in 1964, PHLF is recognized as one of the nation's most innovative and effective nonprofit historic preservation organizations. It works to promote historic preservation, rather than massive demolition, as a tool for renewing communities, creating pride among residents, and achieving sustainable economic development.