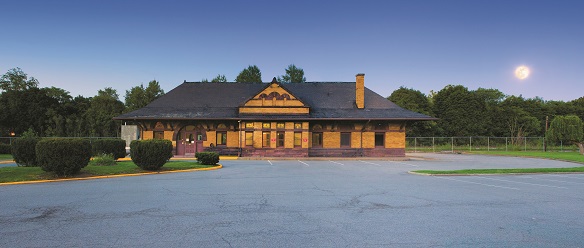 SEPT. 26, 2014 – The Beaver Area Heritage Foundation has awarded $1.1 million in construction contracts for the renovation of its signature Beaver Station Cultural & Events Center. The contracts cover mechanical systems and major interior and exterior rehabilitation services.
The successful bidders are Advanced Mechanical and Plumbing for the HVAC and plumbing, R E Yates Electric for electrical work and Arcon Contracting for the important interior and exterior finishing. Construction is being managed by the L.C. Renninger Group of Beaver, with Pfaffmann + Associates serving as project architect.
The contracts cover extensive work on the main level of the 19th century landmark structure, including preservation of original stained glass windows and redstone archways, marble mosaic floors, woodwork and brass fixtures. Earlier in 2014, the slate roof and copper gutter system were rehabilitated and lower level window wells reactivated.
To date, 198 private and public donors have contributed more than $1.8 million in support of Beaver Station, including grants from the Commonwealth of Pennsylvania Redevelopment Assistance Capital Program and the Pennsylvania Historical and Museum Commission. Additional donations are being sought to complete site work such as paving and landscaping and a dramatic eastern gateway to Beaver.
Beaver Station is an 8,500 square foot facility that "preserves the past" through restoration of an iconic 1897 Pittsburgh & Lake Erie Railroad station and by housing both the Beaver County Genealogy & History Center and the Beaver Area Heritage Museum's Collection & Research Center. It also will create a branch of Sewickley's Sweetwater Center for the Arts. This historic, county-wide venue will become a go-to destination within the regional market utilizing its multipurpose meeting and event space for weddings, parties, arts classes and displays, musical performances, corporate and cultural events or any manner of appropriate public gatherings, indoor or outdoor.
The Heritage Foundation purchased the property from the Borough of Beaver in 2013. For complete information on Beaver Station, including a print-ready donation form, visit www.beaverstation.org.
# # # #