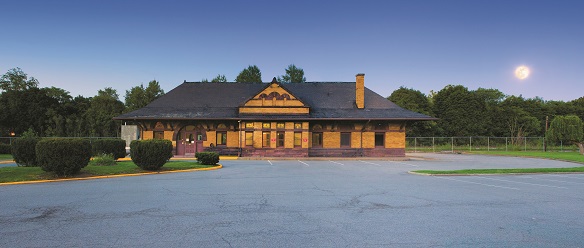 BEAVER, June 16, 2015 – The Beaver Area Heritage Foundation has received a $500,000 commitment from the Allegheny Foundation to complete Beaver Station Cultural & Event Center, an exciting adaptive reuse of a 118-year-old former train station. Scheduled to open in September, the station will host its first public event over the Labor Day weekend.
Dating to 1897, the passenger station was constructed by the Pittsburgh and Lake Erie Railroad and retains the charm of its original marble mosaic floor, high box beam ceiling, stained glass windows and brass fixtures. The building was designed by Boston architects associated with the great H.H. Richardson, well-known for railway stations and the Allegheny County Courthouse and Jail in Pittsburgh. Passenger service ended in 1985 at which time it was converted into Beaver County's first 911 Center. 
The Allegheny Foundation's capstone gift helps the project surpass its original 2012 campaign goal and open the building for public use and enjoyment.  Commitments now exceed $2,450,000 from more than 275 donors.  Under construction since 2013, the restored waiting room has been transformed into the elegant 2,500 sq. ft. 1897 Event Center and may now be reserved for civic and corporate events, wedding receptions, reunions and more. Occupying the station's 6,000 sq. ft. lower level Cultural Center will be the Beaver Area Heritage Museum's burgeoning Collections & Research Center, with more than 30,000 local historical artifacts under management; a local branch of Sweetwater Center for the Arts; and the Beaver County Genealogy & History Center, a tenant since 2013.
Approximately $250,000 is still needed to fully realize the Heritage Foundation's aspirations for Beaver Station and its two-acre site as a unique community and cultural asset serving all of Beaver County. Future plans range from reconstructing original 19th century historic building features and creating attractive and educational site amenities including an outdoor gathering space to establishing an operating reserve endowment.
Beaver Station has received broad based community support including a wide range of gifts from more than 225 individual donors. The following organizations have made commitments of $10,000 or more: Allegheny Foundation, Michael Baker International, Beaver Borough, Jack Buncher Foundation, Cottrill Arbutina, Duquesne Light, Eaton Corporation, First National Bank, Heritage Valley Health System, Huntington National Bank, International Brotherhood of Electrical Workers, Johnstone Supply, P.M. Moore Foundation, Commonwealth of Pennsylvania Redevelopment Assistance Capital Program, Pennsylvania Historical and Museum Commission, Peoples Natural Gas, PNC Foundation, Strassburger, McKenna, Gutnick & Gefsky, Tri State River Products, UPMC Health Plan and the Woman's Club of Beaver.
More: www.beaverstation.org
#   #   #   #
Beaver Station Time Line
1879 – Pittsburgh & Lake Erie Railroad is formed and service to Beaver begins.
1897 – Present brick, stone and slate building is constructed and considered a jewel of the line.
1910 – Station is relocated 100 feet to the east to align with the tracks from new and revolutionary P&LE Ohio River Bridge.  Freight House is constructed on adjacent land.
1967 – Beaver Area Heritage Foundation (BAHF) founded.
1985 – P&LE ends commuter rail service between Pittsburgh and Beaver.
1986 – The property's new owner, Beaver County, constructs a unique below grade addition and it begins service as the county's first 911 Emergency Response Center
1998 – BAHF raises funds and transforms the dilapidated 1910 P&LE freight house into the award winning Beaver Area Heritage Museum (BAHM).
2010 – Beaver County relocates the 911 Center to Ambridge and sells the now-vacant station property to the Borough of Beaver for $200,000.
Feb. 2011 – Beaver Borough asks BAHF to consider "working the same magic" it had in 1998 with the BAHM and try to save this iconic 1897 landmark structure.  A study group is formed.
Sept. 2011 – Beaver Borough train station grant used to engage noted historic preservation architect Pfaffmann + Associates for adaptive reuse study.
July 2012 – BAHF board approves Beaver Station plans and authorizes a $2.3 million capital campaign.
May 2013 – Campaign reaches $650,000. Property is purchased from Beaver Borough, which discounts the price by $90,000 as its contribution.
July 2013 – As the Station's first tenant, the Beaver County Genealogy & History Center opens in the bunker and reports a 30% increase in user visits.
Dec. 2013 – $700,000 Pennsylvania Redevelopment Assistance Capital Program matching grant awarded bringing campaign total to $1,535,000.
May 2014 – LC Renninger Group retained for construction management. Second Pennsylvania Historic and Museum Commission grant awarded for $50,000.
Oct. 2014 – Slate roof rehabilitation completed. $1.1 million construction phase begins. Woman's Club of Beaver becomes 200th donor with a $10,000 gift.
June 2015 – Allegheny Foundation awards Beaver Station a capstone grant of $500,000. Broad based support from all sectors of the community now exceeds $2,450,000 from more than 275 donors.
Sept. 2015 – Beaver Station to open for public use with site work continuing into 2016.
#   #   #   #