Your Next Special Event
At the Award-Winning Beaver Area Heritage Museum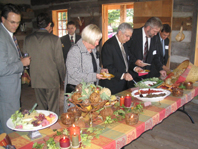 You will make a memorable impression when holding your wedding, corporate event or class reunion in the unique log house and grounds at the award-winning Beaver Area Heritage Museum.
A Leading Venue for Entertainment – Named America's best local history museum, our site is in a beautiful, tranquil setting, one of the premier go-to locations in Beaver County. Guests will be impressed with the facilities that tell the unique, inspiring story of the people, places and events of the Beaver Area's rich heritage. The museum itself is a restored railroad freight station, while the log house is reconstructed of logs thought to have been part of Beaver's Revolutionary War-era Fort McIntosh, birthplace of the First American Regiment.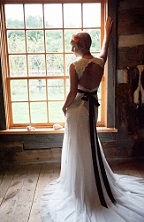 Weddings – Spring, summer, fall and even winter — the log house is a perfect setting for an intimate, memorable wedding and reception to celebrate with your family and friends. Inside is space for bench seating for 30 to 40 guests. On the outdoor lawn, 75 to 100 people may be comfortably seated. Also includes restroom as well as front and back porches. From virtually any angle, the log house and grounds are picturesque and a unique background setting for your keepsake photography to last a lifetime
Class Reunions – see what one Beaver High School class did in perpetual memory of their deceased classmates.
Capacity – The site can accommodate small, intimate groups of five to 20 people and larger groups of 50 to 75 guests. Off-street parking is free.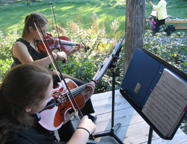 Amenities – A number of high quality amenities are available to make your event even more special. They range from a 10 ft. x 20 ft. portable tent, to costumed docents who can lead outstanding tours, to recommendations on local catering and musical entertainment resources. The site is equipped with two restroom facilities for convenience and comfort.
To Make a Reservation – Please contact the museum at least one month before the event date by calling 724-775-7174 or emailing at info@beaverheritage.org. Users must sign a rental form and, if alcoholic beverages are to be served, must apply for review by the museum trustees.
Costs: The daily fee is $250 for non-members – $100 for family/individual members – and free for corporate members.
Ambassador Tent Rental is the museum's exclusive provider of tents, tables and chairs. All rental fees are separate from and in addition to the facility rental and must be arranged for and paid for by the person(s) utilizing the log house and its grounds. Contact Ambassador Tent at 724-643-6403. No other vendor for these services is permitted on the grounds.
Corporate Membership – For annual corporate membership dues of $250, members receive a host of benefits that will increase their public visibility as a good community citizen. The benefits include:
Exclusive, one-time opportunity to rent our restored log house and gardens for private, catered events for entertaining VIPs;
One free copy of our hardbound, award-winning coffee table book, Beaver Town, with additional copies at a discount; and
Your company's name printed on all issues of our Foundations newsletter, and on numerous other periodic mailings sent to 500+ members.
To inquire about opportunities for your organization, contact info@beaverheritage.org.