Beaver Sports: Then and Now
A Nostalgic Look at Beaver School Teams and Athletes
Note — this exhibit closed on Dec. 12, 2015.
When Beaver High School first opened in 1880, athletic programs were not part of the plan and there were no sports available for students to participate in, but by the turn of the century things were changing, as sports and recreation were becoming increasingly popular.
The Heritage Museum's exhibit is a nostalgic retrospective of hometown photos and memorabilia of athletes and teams of days gone by but also of more recent vintage.
On display is the first Beaver baseball team photo — Beaver Greys baseball photos with a bat and uniform jersey — football team photos from various years — a 1925 girl's letter sweater — Bill Butler's track medals, shoes and trophies — girls' softball photos — boys' track memorabilia — and much more.
The exhibit includes a special tribute to the late Ralph "Buss" Morton of Beaver, a scholastic sports enthusiast, featuring special family treasures.
Paul Jones – In 1952, Beaver boasted a state champion baseball team which captured the American Legion Knee-High title. The museum exhibit will include team photos, a team jacket, the Outstanding Player Award (John Barley) and other memorabilia. Jones, one of the most notable of Beaver's intramural coaches and sports boosters, coached the team.
Girls Softball – The inaugural season for girls varsity softball at Beaver High School was in 1974. In 1995 the Lady Bobcats qualified for the WPIAL playoffs for the first time, and in 1998 won their first softball section title. In 2014, after 40 years of hard work, sacrifice and determination, the Bobcats reached the pinnacle by winning their first WPIAL championship.
Bill Butler – At one time, he was the fastest 440-yard college sprinter in America. The museum is fortunate to have his medals, trophies and track shoes in its collection. Bill graduated from Geneva College, setting records in the 100, 220 and 440-yard sprints.

Beaver Rotary Club to Volunteer – For the sixth straight year, members of the Rotary Club of Beaver will serve as volunteer greeters during the season.
Museum Shop – Be sure to stop in to our gift shop for high quality souvenirs, including stuffed animals, children's coloring books, afghans and other high quality gift items. You may also be interested in a wide range of our award-winning books and publications.
Hours – Saturdays 10 a.m. to 4 p.m., and Sundays 1 p.m. to 4 p.m.
Cost: Absolutely free. Donations welcome.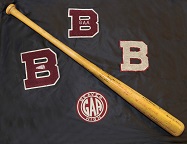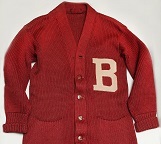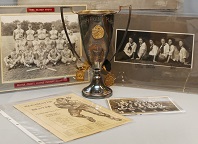 Antique autographed baseball bat and varsity letters; original varsity sweater; and team memorabilia
Volunteers—We always seek volunteers for a variety of fun and meaningful projects. Among these are greeters, collections management, student field trips, exhibits, landscaping, facility maintenance, marketing and public relations.
Donations and Events—Wish to donate an artifact to the museum's permanent collection? Or rent the log house and grounds for your wedding, class reunion or corporate event? Or schedule a special tour for your group? Contact us at info@beaverheritage.org.
Corporate Sponsors:
Gold: Strassburger, McKenna, Gutnick & Gefsky
Silver: c3controls, Heritage Valley Health System, Huntington Bank
Bronze: Eaton Corporation