Left to right: Dennis Davin, Robert Rice, William Fontana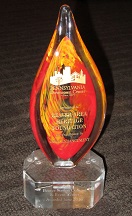 Townie Award
BEAVER, PA, June 21, 2016 – The $2.7 million Beaver Station Cultural and Event Center has received a prestigious statewide community revitalization award for "creating economic vitality" by the Harrisburg-based Pennsylvania Downtown Center.
The "Townie Award," in the category of asset enhancement, was presented by Dennis Davin, Secretary of the Pennsylvania Department of Community and Economic Development, and by William Fontana, Executive Director of the Center, at a June 14 dinner gala in Allentown.
Beaver Station Co-chair Robert Rice accepted the award on behalf of the Beaver Area Heritage Foundation. In his remarks, Rice acknowledged Beaver Station colleagues in attendance David O'Leary and Mark Miner, who serve on the Station's Operating Committee.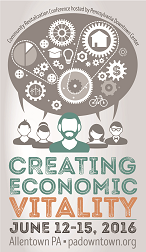 The Townie Awards Gala is an annual dinner and awards ceremony to recognize communities from across the commonwealth for noteworthy revitalization projects completed over the previous year. The award support the Center's mission to build and support the capacity of local non-profit organizations, municipalities and individuals to enhance the overall well-being and sustainability of Pennsylvania's "core" communities.
An adaptive re-use of an 1897 passenger station of the Pittsburgh and Lake Erie Railroad, the station is an 8,500 sq. ft. cultural and events center. The waiting room has been returned to its original grandeur and transformed into the elegant 1897 Event Room for civic and privates uses including meetings, receptions and cultural exhibitions. Occupying the station's 6,000 sq. ft. lower level cultural center are the Beaver Area Heritage Museum's ever growing Collections & Research Center, the Beaver County branch of Sewickley's Sweetwater Center for the Arts, the Beaver County Genealogy & History Center and two multi-use meeting rooms.
Exterior work on the station is continuing this summer with the rebuilding of its original porte-cochère (entrance portico), construction of an unique event lawn Belvedere for concerts and weddings, a timeline history of Beaver County and attractive landscaping. More>>> www.beaverstation.org.
Award-winning Beaver Station — originally built in 1897 as the passenger station of the Pittsburgh and Lake Erie Railroad