In the News
The talented volunteers and activities of the Beaver Area Heritage Foundation and Museum regularly are in the news and make news. If you are a journalist and would like more information, or to request an interview, please contact info@beaverheritage.org.
2016
June 14, 2016 – The $2.7 million Beaver Station Cultural and Event Center receives a prestigious statewide community revitalization award for "creating economic vitality" by the Harrisburg-based Pennsylvania Downtown Center. The "Townie Award," in the category of asset enhancement, was presented by Dennis Davin, Secretary of the Pennsylvania Department of Community and Economic Development, and by William Fontana, Executive Director of the Center, at a dinner gala in Allentown. Beaver Station Co-chair Robert Rice accepted the award on behalf of the Beaver Area Heritage Foundation. In his remarks, Rice acknowledged Beaver Station colleagues in attendance David O'Leary and Mark Miner, who serve on the Station's Operating Committee. More>>>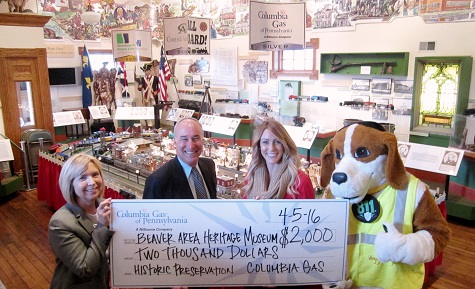 April 5, 2016 – In recognition of April as the ninth annual National Safe Digging Month, Columbia Gas of Pennsylvania Inc., presents the Heritage Museum with a $2,000 contribution for the continual safety, celebration and preservation of local Beaver communities. "Columbia Gas has been part of Beaver neighborhoods since 1885," said local Columbia Gas Operations Center Manager Mike Tice. "Both Columbia Gas and the Heritage Foundation are committed to the investment of the region's future. Columbia Gas applauds the Heritage Foundation for its dedication in preserving the rich history of the neighborhoods we call home." [ more ]
March 26, 2016 – The Heritage Museum opens its 2016 exhibit, "All Aboard!" featuring a model railroad layout celebrating the community and business district of Beaver's historic Third Street. The exhibit is sponsored by Strassburger McKenna Gutnick & Gefsky, Columbia Gas, Cottrill Arbutina Academy, Heritage Valley Health System, Huntington Bank, Larson Design Group and Eaton Corporation.
2015
Nov. 17, 2015 – The final speakers series event of the year but the first at Beaver Station will feature Kenneth Hoover, who will speak and share a display about 3 generations of his family who, over a 60-year period, sent soldiers to the French & Indian War, Revolutionary War and War of 1812. Free. Starts 7 p.m.
Nov. 11, 2015 – Leanne Rogowski, former Beaver County Times special events coordinator, is selected as venue manager for the newly renovated $2.7 million Beaver Station. In this role, she is charged with booking events such as wedding receptions and meetings and activities for corporate and non-profit organizations as well as managing social and cultural events for the Beaver Area Heritage Foundation. [ more ]
Nov. 3, 2015 – Beaver Station hosts a reception for a full house to thank the project's top donors representing both the public and private sectors. Pennsylvania Senator Elder Vogel (47th District) makes remarks as do David O'Leary, Robert Rice and Mark Miner.
Oct. 24, 2015 – The Heritage Foundation holds its annual Charter Day Dinner for 117 guests at Beaver Station, the first formal dinner to be held at the cultural and events center and the first event to utilize the new catering kitchen for meals. David O'Leary and Robert Rice receive the Heritage Foundation's prestigious annual Civic Leadership Award for extraordinary service in preserving local heritage for their work managing the Station project.
Oct., 21, 2015 – Columbia Gas makes a $13,300 donation to support efforts by the Beaver Borough Police and Beaver Area Heritage Foundation to distribute free FirstAlert combination carbon monoxide and smoke detectors to Beaver County families in need this Halloween. Of approximately 1,200 detectors distributed statewide, nearly 400 will be available for pick-up at the local Beaver, Industry and Vanport Volunteer Fire Departments. [ more ]
Oct. 17, 2015 – At the invitiation of the Washington (PA) Chapter of the Sons of the American Revolution, Heritage Museum chair and Beaver Station Operating Committee member Mark Miner makes a presentation about Fort McIntosh, held at the Union Grille in Washington.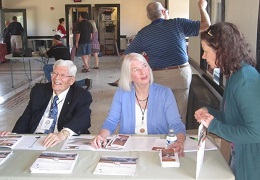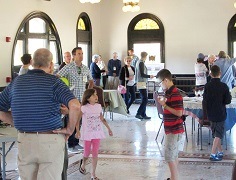 At the Beaver Station open house, left: Bob Smith, Tommi Wagner and Stacey Sullivan. Right, families mix and mingle in the newly renovated space.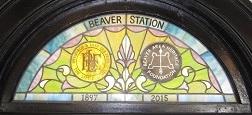 Oct. 11, 2015 – With its interior now virtually complete, Beaver Station hosts its first open house for the public and draws some 600 guests on a Sunday afternoon. The public receives its first view of the new, specially commissioned, arched stained glass window bearing the logos of the Pittsburgh & Lake Erie Railroad and the Heritage Foundation.
Sept. 25, 2015 – The widely acclaimed, seventh annual "Beaver Tales" storytelling event, held in the Beaver Area with fascinating storytellers, draws 600 attendees to a Friday night performance. This year's returning storytellers were Lyn Ford and Len Cabral as well as new teller Michael Parent. [ more ]
2015's Beaver Tales storytellers — Lyn Ford, Len Cabral, Michael Parent
June 17, 2015 – "Beaver Station donations, renovating moving along" – Beaver County Times [ more ] and also TimesOnline.com video, "Construction continues on the Beaver Station" [ view ]
June 17, 2015 – "Allegheny Foundation boosts effort to turn old Beaver train station into cultural center" – Pittsburgh Tribune-Review [ more ]
June 16, 2015 – The Heritage Foundation receives a $500,000 commitment from the Allegheny Foundation to complete Beaver Station Cultural & Event Center. Scheduled to open in September, the station will host its first public event over the Labor Day weekend. [ more ]
June 13, 2015 – The Garrison Day Sale, sponsored by the Heritage Foundation as its single largest annual fundraising event, is held in Beaver's central parks for many thousands of shoppers and curiosity seekers. Ethel Icenhour chairs this effort, which generates funds to support  Heritage Foundation's myriad programs and events.
June 3, 2015 – Members and coaches of Beaver Area High School's 1998 section champion and 2014 WPIAL champion women's softball teams celebrate with a "photo op" at the "Beaver Sports Then and Now" exhibit at the Heritage Museum. Among them: Casie Farkowsky,Tammy Pannuci ,Stephanie Galzerano, Jess Fischer, Butch Rousseau and Kacie Eckelberger.

Col. Ned Reader
May 25, 2015 – Retired U.S. Army Col. Robert E. "Ned" Reader II is the keynote speaker for the annual Memorial Day commemoration ceremony at Beaver Cemetery, following the annual parade in Beaver sponsored by the Heritage Foundation. Some in the community may remember his mother and stepfather, the late Anne and Ralph "Buss" Morton. [ more ]
April 18, 2015 – The Kool Kats Vintage Bike Club of Pittsburgh will gather from noon to 3 p.m. at the Heritage Museum. Members of the Snitger family, of Snitger's Bicycle Shop, are expected to attend. [ more ]
March 21, 2015 – The Heritage Museum re-opens for the year on the theme of "Pedaling thru History" — featuring iconic bicycles from the 1940s thru the '80s along with a special tribute to Beaver's own Snitger's Bicycle Shop. [ more ]
March 20, 2015 – The Heritage Museum's Millie Terlizzi is pictured in Beaver County Times, meeting with California University of Pennsylvania students who are producing videos about historical sites in Beaver County. [ more ]
March 18, 2015 – The Heritage Foundation's Facebook page reaches a milestone 500 "likes" and climbing. Thank you for supporting our organization's online face.
March 17, 2015 – Cindy Murphy, co-author of the book Images of America: Aliquippa presents at the Heritage Foundation speaker's series meeting, sharing images illustrating the town's unique story, with assistance from her husband and co-author Ed, out of view and manning the projector. Photo courtesy Valentine Brkich Jr.
Feb. 25, 2015 – Beaver County Times annual Progress Edition – "Many Firsts at Fort McIntosh" – writes the Times: "we explore the heritage of Beaver County and follow its path from the Native Americans who once lived along the river shores to the early settlers and innovators of so many industries through the age of steel to the now-dawning age of natural gas drilling. Through it all, we can see what makes Beaver County special and why it is heading for a revival." [ more ]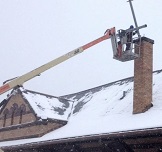 Jan. 27, 2015 – Construction work continues at Beaver Station despite wintry temperatures and snow buildup. Earlier in the week, a worker fed plastic pipe into the chimney for the boiler exhaust system. Inside, To replicate the lighting fixtures used in the original station waiting room, planners rely on a 1906 photo of the P&LE Railroad's sister station in Beaver Falls (built the same time with the same architect) and created a replica from scratch which now hangs in place for evaluation. The original fixture — called "gas up and electric down" — dates from a transitional period of time when gas lights were being phased out in favor of electric ones.
2014
Nov. 18, 2014 – Mary Frailey Calland, author of Consecrated Dust, presents at the Heritage Foundation speaker's series at Trinity Church in Beaver. Her book portrays a family struggling through the Civil War in a way that transports readers back in time to the home front and battlefield, bringing to life a little known Civil War period in Pittsburgh's history.
Oct. 18, 2014 – Awards are bestowed and year-in-review updates presented at the Heritage Foundation's 47th annual Charter Day Dinner, held at the Merrick Art Gallery in New Brighton. Rhonda and Andrew Monte receive the annual Harry S. Phillips Award for historic preservation of their home at 694 Fourth Street, Beaver. Helen and Shawn Kissick receive the Phillips Award for historic preservation of their commercial property at 453 Third Street, Beaver, where they operate their business Free Spirit Acupuncture and Wellness Center. On behalf of his late father, Ralph "Buss" Morton, David Morton posthumously accepts the annual Civic Leadership Award for a lifetime of service to preserving local heritage, with previous winners including John McLaughlin (2013) and Robert Smith (2012). Beaver Station Steering Committee Chair David O'Leary presents a review of the year's activity.

Oct. 10, 2014 – The widely acclaimed "Beaver Tales" storytelling event — free to the public — returns to the Beaver Area with four all-new storytellers who weave their magic and share a sense of wonder and delight with audiences of all ages. This year the event featured acclaimed tellers Joanna Demarest, Antonio Rocha, Jon Spelman and Marsha Wong, who make visits to the Beaver Area Memorial Library, Beaver Area School District and State Street Elementary School in Ambridge. [ more ]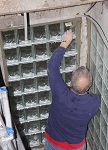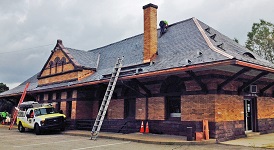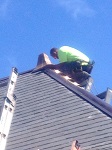 Sept. 26, 2014 – The Beaver Area Heritage Foundation awards $1.1 million in construction contracts for the renovation of its signature Beaver Station Cultural & Events Center. The contracts cover mechanical systems and major interior and exterior rehabilitation services. The successful bidders are Advanced Mechanical and Plumbing for the HVAC and plumbing, R E Yates Electric for electrical work and Arcon Contracting for the important interior and exterior finishing.  Construction is being managed by the L.C. Renninger Group of Beaver, with Pfaffmann + Associates serving as project architect. [ more ]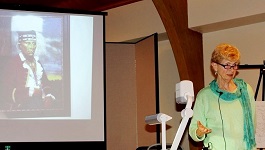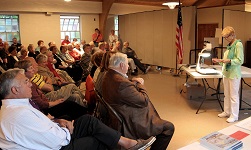 Sept. 16, 2014 – "The Place Across from Big Beaver Creek: The Origin of Monaca, Pennsylvania" – the Heritage Foundation's speaker's series features a presentation by author, historian, and Monaca native Dr. Eileen Aiken English. Professor Emerita of California University of PA, she is a volunteer researcher for Old Economy Village, and her works include a two-volume history of Monaca for children; 1833 Residents of Phillipsburg; Demographic Directory of the Harmony Society; and Count Leon, the Man Who Cleft the Harmonie.
Aug. 17, 2014 – For the fourth straight year, as part of its commitment to community service, members of the Rotary Club of Beaver are serving as volunteer greeters during the exhibit season. Today's Rotary representatives: Paul and Alicia Davis.
July 7, 2014 – To celebrate our nation's independence, the annual Concert in the Park is held in Irvine Square, featuring local performers in a throwback to a more Norman Rockwell era, sponsored by the Beaver Area Heritage Foundation.
July 3, 2014 – Having reached 84 percent of its fundraising goal, a "Station Celebration!" is held at Beaver Station for several hundred supporters, enjoying great food, beverages and entertainment, as well as tours showing progress along with exciting plans for coming months.
May 28, 2014 – State Rep. Rob Matzie announces that the Pennsylvania Historical and Museum Commission has awarded a $50,000 grant to the Beaver Station project. [ more ]
May 20, 2014 – Mary Kegley of Wytheville, VA, co-author of Sisters Saga with Beaver's Nan Oliver, will present about her book documenting the 19th century Scott and McKee families. The work comprises 200 letters written by the sisters McKee in Wytheville to their sister Nancy Scott of Beaver between 1836 and 1883, and was researched in the permanent collections of the Beaver Area Heritage Museum. Trinity Anglican Church, 7 p.m. Signed copies will be available for purchase.
May 4, 2014 – KDKA-AM Radio talk show host Rob Pratte interviews Heritage Museum volunteers Beth Spence and Mark Miner about the "Beaver Collects" exhibit, Beaver Station, Michael Baker Corporation archive and elementary school student field trips.
April 7-8, 2014 – Heritage Museum board chair Mark Miner makes presentations about the Beaver Area Heritage Foundation and Museum at the annual luncheon meetings of the Heritage Valley Beaver Auxiliary and the monthly luncheon of the Beaver Valley Christian Women's Club.
April 2, 2014 – Pittsburgh Tribune-Review – "Beaver County Heritage Museum to Catalog Michael Baker Corp. Photos, Film" – quoting Mark Miller of Michael Baker Corporation and Mark Miner of the Heritage Museum.
March 27, 2014 – Heritage Museum volunteers Beth Spence and Mark Miner are interviewed on the "Huntington Helps" radio show on WBVP-AM and WMBA-AM, hosted by John Nuzzo and sponsored by Huntington Bank, about the museum's new free exhibit, "Beaver Collects." The bank is a silver sponsor of the museum's yearlong display.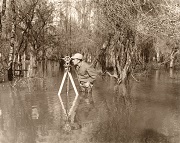 One of tens of thousands of historic images in the Michael Baker Collection

March 24, 2014 – Michael Baker International, Pittsburgh's largest engineering firm, announces its joint effort with the Heritage Museum to collect, transfer and catalogue the entirety of Baker's historic materials collection involving tens of thousands of print photographs, photographic negatives and 35mm slide photographs; 8mm and 16mm film on reels; project-specific microfiche dating to 1955; and internal and external company publications such as newsletters, magazines and technical journals. It also includes historical records as well as reprints of industry trade articles that feature the company, highlight a company project or celebrate employee achievements. Other features include personal effects of the company's late founder Michael Baker Jr., including his office desk, large globe, photo portrait, books from his personal library and much more. [ more ]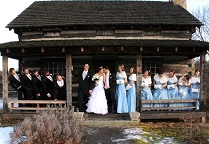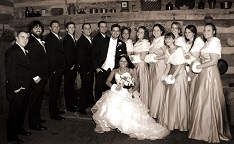 Congratulations to Matt and Mary (Palmer) Frioni on their recent marriage with best wishes for a long and happy life together. They celebrated with a photo shoot at the Heritage Museum log house despite a little snow. J.Lageman Photography
March 24, 2014 – Beaver County Times – ""Area Residents' Collections Showcased at Beaver Museum" – feature article calls the exhibit "nostalgia, whimsy and fun" and quotes museum trustee and exhibit curator Eileen Rillo, artifact lenders Pat Stewart and Mary Ellen Medich, and mentions former trustee John McLaughlin Jr. [ more ]
March 20, 2014 – In a presentation made on-site, First National Bank of Pennsylvania recently made a $15,000 commitment to the Beaver Area Heritage Foundation for its Beaver Station project through the Neighborhood Assistance Program (NAP) offered by the Pennsylvania Department of Community and Economic Development. [ more ]
March 19, 2014 – Sewickley Herald – "Sweetwater Art Classes Expanding into Beaver County" quoting Beaver Station Steering Committee Chair David O'Leary and Alice Kern of the Beaver County Genealogy and History Center. [ more ]
March 11, 2014 – Beaver County Times – "The Model Maker" – feature article about model car maker Howard Taylor, mentioning the museum's "Beaver Collects" exhibit. [ more ]
March 18, 2014 – The Heritage Foundation's free speaker's series presentation features a presentation and video by the New Brighton Historical Society about the history of the Underground Railroad in Beaver County and specifically the Dunlap Mansion in Bridgewater.
March 15, 2014 – Beaver's award-winning Heritage Museum will open for the season with its all-new, free display, "Beaver Collects." The year-long exhibit will highlight unique and eclectic treasures of local collectors from right here in our own neighborhoods, and change every few months. The opening display features a collection of teddy bears inspired by the Teddy Bear Museum in Naples, Florida; a colorful variety of Pez candy dispensers; and handmade sock monkeys. The museum is open Saturdays from 10 a.m. to 4 p.m. and Sundays from 1 p.m. to 4 p.m. Corporate sponsors include Strassburger, McKenna, Gutnick & Gefsky (Gold) – c3controls and Huntington Bank (Silver) – and Eaton Corporation (Bronze). [ more ]
"In the News" archive – 2011 to 2013