Fort McIntosh
Beaver's Revolutionary War Landmark

General Lachlan McIntosh built Fort McIntosh during the American Revolution in 1778 on a commanding plateau above the Ohio River at what would become the town of Beaver, Pennsylvania. He was assigned by General George Washington as Commander of the Western Department of the Continental Army.
Constructed in 1778, it was the first fort built by the Continental Army north of the Ohio River, as a direct challenge to the British stronghold at Detroit. It was the headquarters of the largest army to serve west of the Alleghenies. Its purpose was to protect the western frontier from possible attacks by the British and from raids by their Native American allies. The fort, large for a frontier setting, at one time had a garrison of about 1,500 men.
In 1783, when the Revolution ended, the fort was garrisoned by the remainders of state militias and a small number of supply troops from Fort Pitt and West Point. Colonel Josiah Harmar proclaimed this newly formed regiment as the — First American Regiment — The Old Guard — which today is known as the Presidential Honor Guard.
The fort was the scene of a historic event in January 1785 — the signing of the "Treaty of Fort McIntosh" by chiefs of the Delaware, Wyandot, Ottawa and Chippewa nations, along with treaty commissioners George Rogers Clark, Richard Butler and Arthur Lee. As a direct result, the way was cleared for Congress to enact the Land Ordinance of 1785. This became the pattern for ultimately opening all the western territories to boundary surveys and orderly settlement, and marked the real beginning of the westward migration that continued for the next 100 years.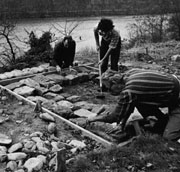 After 10 years of service, the fort was de-commissioned in 1788. Its brief history ended since the frontier had pushed further west by that time, and its mission had been completed.
No plan of the fort is known to have been made at the time it was in existence. In 1893, Judge Daniel Agnew of Beaver published a booklet entitled Fort McIntosh and Its Times. His purpose was to try to kindle interest in restoring and preserving of what remained of the fort at that time.
In 1974, local archaeologists, with assistance of the University of Pittsburgh and the Carnegie Museum, began excavations to locate the fort's remains. They found stone footers marking walls and fireplaces. The dig continued for four years, turning up more than 80,000 identifiable artifacts and fragments of archaeological significance.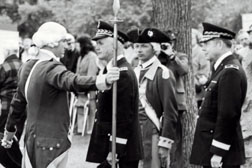 Restoration was completed in 1978, 200 years after the fort was originally built. The site was dedicated on Oct. 7, 1978 by U.S. Army General William Westmoreland and the Beaver Area Heritage Foundation on the 200th anniversary of the fort's original construction. Seen here, the general inspects the troops.
Today, the restoration of the Fort McIntosh site includes picturesque landscaping, granite monuments and bronze plaques as well as the original stone footers of the walls and fireplaces.
For more information, contact info@beaverheritage.org.