How to Join
The Beaver Area Heritage Foundation is open to anyone, anywhere having an interest in our local history. 
We currently have more than 450 members in the Beaver Area, Beaver County and all over the United States. Members receive our quarterly Foundations newsletter in addition to invitations to fascinating speaker's programs and museum activities.
Annual Dues:
How to Join:
Simply print and fill out our Membership Form, and send it with a check payable to the "Beaver Area Heritage Foundation" c/o P.O. Box 147 Beaver, PA 15009. Or, if you prefer, you can now join or renew your membership online.
Have Questions?
Call Us: 724-775-7174
---
How to Volunteer

Qualified volunteers always are needed to serve as greeters for visitors to the log house and museum. Interested individuals will be provided with brief training ahead of time. 
To help greeters prepare, we have a fully illustrated, 14-page guide that describes each of the museum's major artifacts with photos and important details. Once you have spent a little time with this document, you will know as much about the museum — if not more — than many of our members!  Click to download.  [ PDF 1.2MB ]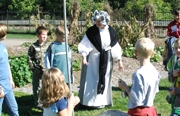 We also are seeking retired teachers and others in the community who have a love of education to assist with our school programs involving elementary students. 
For more information, contact us at info@beaverheritage.org.