2004 EXHIBIT:
"Survivor All-Star" Amber Brkich
'Summer of 2004' Draws Hundreds to Museum
Beaver Native and TV Star Amber Brkich Leads Salute to Firefighters
Hundreds of well-wishers and fans gathered at the museum on Sat., June 26 for a celebration – to show appreciation to living history makers – to survivors – in the community who have made their own mark on Beaver's reputation as "someplace special."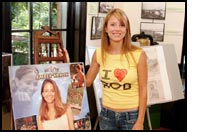 The news made headlines in People Magazine (see below), and an Associated Press article was picked up by hundreds of newspapers in North America and Canada. In a national story by the Knight-Ridder chain, the Philadelphia Inquirer said "curators everywhere are casting their jealous eyes on the Beaver Area Historical Museum … which just scored the coup of the year."
The star attraction was Brighton Township's own "Survivor All-Star" winner Amber Brkich, who brought the national spotlight to Beaver while making her "million-dollar" mark on CBS-TV. The object of the day also was to pay tribute to Beaver area volunteer firefighters, who quietly go about their expert work protecting our community every day.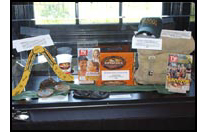 Master of ceremonies Mark Miner said that Amber "is beautiful, smart and articulate, and what more could we want to represent our community in the national spotlight?"
Heritage Foundation President Ed McLaughlin noted that the museum's major exhibit this year features the history of firefighting in Beaver. "On display are mannequins dressed in the firefighting equipment of the 1950s and 2000s, to show the great improvements made to protect firefighters' safety over the years," he said.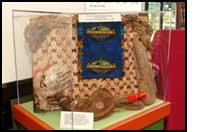 Earlier in the day, Amber helped dedicate an exhibit featuring artifacts from her two Survivor experiences.
Afterward, Amber signed several hundred autographs on specially printed cards featuring the museum and fire department logos.
Other speakers included Fire Department President John Kowalski and Beaver Borough Council President James Foster. Dr. John Guzzetti served as deejay, while many Heritage Foundation volunteers assisted as docents and helped in a variety of important ways.
Reprinted from People Magazine
July 19, 2004
"The Amber Museum"
Okay, the Louvre has better paintings. Still, Pennsylvania's Beaver Area Historical Museum is quite proud of its new exhibit: a collection of memorabilia from Survivor winner – and hometown heroine – Amber Brkich. Among the items on display: a bikini Brkich, 25, wore on the show; her boomerang; a leather canteen; a blindfold worn during several challenges; a personal scrapbook; and several magazine covers. About 200 people showed up to meet Brkich at the exhibit opening last month; attendance has since doubled. "It was just a nice thing that the hometown wanted to recognize me," Brkich says. Adds museum trustee Mark Miner: "There's a natural interest in our local TV history maker." Admission is free.
Reprinted from PEOPLE Magazine's July 19, 2004 issue by special permission; (c) 2004 Time Inc. All rights reserved.