2006 EXHIBIT:
A Snapshot of Beaver
"A Snapshot of Beaver" Opens at Beaver Area Historical Museum
The Beaver Area Historical Museum opened a new exhibit of a unique collection of historical photographs and antique cameras. "A Snapshot of Beaver" features more than 40 cameras from the late 1800s through the first half of the 20th century. The majority of the cameras and equipment are on loan from Harry Frye, formerly of Brighton Township, who has served as a photographer for both the Beaver County Times and the Latrobe Bulletin. The balance of the collection was donated to the museum by the late Homer Hogsett, who enjoyed collecting cameras and developing photographs.
"A Snapshot of Beaver" not only features antique cameras, but also many wonderful, early pictures of Beaver County and its residents. Many of the photographs on display were taken by photographers from Brown's Photographic Studio, which was located on Third Street on the site of the present-day Panda Garden. J. A. J. Cole, a one time resident of Second Street, is probably the most well-known of these photographers. Many of his photographs on display include a view of Beaver and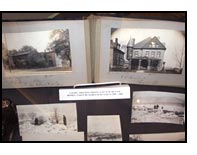 Rochester before the construction of the P&LE Railroad Ohio River Bridge, a panoramic of the once bustling Junction Park in New Brighton; and a panoramic, 360-degree view of the destruction on Third Street, following the tornado of June 28, 1924.
Other photographs include one of the Beaver Battalion Reunion (1930), the Beaver Junior High Class of 1922, the Annual Assembly Women's Missionary Society of Beaver Presbytery (1920), and several of the former Beaver College (1895).
Some of the more notable cameras and equipment are a glass lantern slide projector (circa 1895); various early Kodaks and Polaroids (circa 1902-1950); a top-view reflex camera (circa 1940); and an aerial camera used in WWII for Air Force reconnaissance missions, which included a crosshair type mechanism for focusing.
Probably the most interesting camera on display is the Circuit Camera (circa 1910), which was made by the Fulmer Schwinn Graphics Company. This camera, driven by a small gear, was capable of shooting a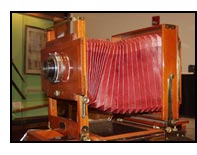 360-degree picture or a panoramic shot, such as the one taken of the tornado destruction on Third Street (1924).
Besides cameras and photographs, "A Snapshot of Beaver" also features photographic equipment including vintage film, developing chemicals, copper negative plates, and various other tools used in the film developing process.
Midge Sefton, Director of Collections Management for the museum, said: "We are most appreciative to the daughter of the late Homer Hogsett, Pat White, for her extensive donation to this exhibit. Without that donation along with the wonderful loan from Harry Frye, this exhibit would not be possible. What a great representation of the history of Beaver these two people have provided."
"A Snapshot of Beaver" will close in June. Admission is free. Hours are Wednesdays and Saturdays, 10 a.m. to 4 p.m., and Sunday from 1 p.m. to 4 p.m.
–By Valentine J. Brkich