2005 EXHIBIT:
Musicians of Beaver and the Beaver Valley
Celebrating the Rich Musical Legacy of Our Community
From July through December 2005, the Beaver Area Historical Museum featured an exhibit celebrating "Musicians of Beaver and the Beaver Valley."
This fascinating display provided a wide range of artifacts that not only honor the rich musical heritage of the Beaver Area, but also the broader talent of the Beaver Valley.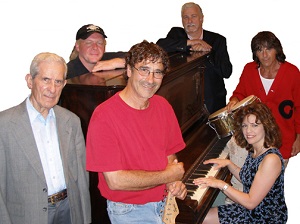 L-R: bandleader Val Rocco, piano restorer Tom Budjanec, Cruisers singer Donnie Iris, bandleader Rudy Zetz, Skyliners' singer'pianist Donna Groom and Granati Brothers drummer Rick Granati
Among the artifacts on display were Henry Mancini's piano, Donnie Iris' trademark yellow jacket, Sounds from Beaver Valley Waltz sheet music, diplomas from the old Beaver Musical Institute, and a photo of Beaver bandleader Val Rocco meeting Pope John Paul II, backstage passes from the Granati Brothers' 1979 tour with Van Halen.
The piano was owned by Henry Mancini's parents and he used it to begin composing and arranging popular music as a young man in West Aliquippa, helping launch his Oscar-winning career creating scores for more than 100 films, including the Pink Panther, Moon River, Days of Wine and Roses. Tom Budjanec of Piano Forte in Ambridge completely restored the piano and graciously lent it to us for the year.

The yellow jacket and bow tie were worn by "King Cool," Donnie Iris, when he was with the Jaggerz in the 1970s. He also wore the outfit for the cover photo of his 1980 album, Back on the Streets, with his band, Donnie Iris and the Cruisers. Among his many hits have been Ah Leah! and Love Is Like a Rock. In recent years, the jacket was on display at Nick's Fat City in Pittsburgh.
The Sounds from Beaver Valley Waltz was composed for piano by J. Markus H. Winteringer and published in 1902, inscribed to "my friend J. S. Duss." Winteringer also wrote Carnegie's Welcome Home, The Duquesne Club March and Two-Step, and William McKinley's Funeral March, among many others, during his career.

The original diplomas were issued by the old Beaver Musical Institute, established in 1868 at Beaver College. The faculty and teachers were of the highest caliber and were drawn from the University of Paris, University of Frankfurt, Darmstadt Conservatory, London's Royal Academy of Music, and in this country from Harvard, Radcliffe and Mt. Holyoke.
Beaver saxophonist and band director Valentino Rocco, as a member of Aliquippa's Musical and Political Italian Club Band, met and performed for Pope John Paul II in Rome in 1988. "Nearly 10,000 people packed the Vatican Auditorium that summer to hear the band," said the Beaver County Times. Val's wife, Dr. Emma (Scogna) Rocco, is an accomplished musician as associate professor of music at Penn State-Beaver, and author of music related publications.
The Granati Brothers (also known as "G-Force") have provided their family's personal scrapbook detailing their career, highlighted by touring the United States twice and opening 78 shows for rock superstar group Van Halen. They also released a hit song, What in the World, in 1979, a year in which they also appeared with Heart, Peter Frampton, Boston, J. Geils, Ian Hunter and the Doobie Brothers during a seven-month national tour.

Visitors to the museum have long noted the permanent ring of oval portraits of individuals who became noteworthy in the history of the Beaver area. One of these is 1914 Beaver High School graduate Esther Stoll, world famous opera star and television producer. In 1926 she began her career as a soprano with the city of Kassell Opera in Germany and then joined the Breslau Opera where she sang for three years. She also taught voice, and one of her early students was Arthur Godfrey whom she later served for 10 years as Head of Auditions for his Talent Scouts.
A drumstick used at Fort McIntosh? It's entirely possible. This wooden artifact was found in the mud chinking between logs when our log house was moved to its present site. It may well have been used by musicians with the First American Regiment, stationed at the fort between 1778-1788. The fort later was dismantled and the logs used to construct local homes.
Notable Beaver Area Musicians – Additional, notable Beaver Area musicians enshrined in the Beaver Valley Musicians Hall of Fame include the following:
Beaver's Thomas H. Challis, founder of the Abbey Brass which has performed at St. Patrick's Cathedral in New York, St. Matthew's Cathedral in Washington, DC, and Easter services at the US Naval Academy every year since 1978.
Beaver's John K. Fink, III, whose crowning achievement is the annual Lenten production of Hosanna!, a two-hour musical production with a cast of more than 200.
Bridgewater's Donald A. Taylor, a trumpeter, who once received this advice from legendary Louis Armstrong: "Always play with musicians that are better than you, and you have to play up to them."
Beaver native Paul C. Evans, a trombonist who is considered "one of Beaver County's finest brass instructors."
Beaver's Joseph N. Bilotto, who once played with the nationally known Lucky Strike Orchestra in New York.
Donald Knezevich, elementary band director at Beaver Area School District for many years, and who conducted the Heritage Foundation's own Fife and Drum Corps.
The Museum is grateful to Midland bandleader Rudy Zetz and Patterson Twp.'s Donna Groom of Jimmy Beaumont and The Skyliners, who promoted this exhibit to appeal to anyone who appreciates our region's rich musical legacy.