2010 SUMMER EXHIBIT:
Bricks, Mortar and Charm
The Heritage Museum's new summer exhibit explores the fascinating range of rich architectural styles of Beaver homes since the early 1800s.
The exhibit is intended to inspire visitors to explore the Beaver Area to view firsthand the variety and richness of the architecture. Museum officials also hope to gather the history and images of as many individual homes in the area as possible to add to its permanent collection and serve as a research tool for future generations of homeowners and scholars.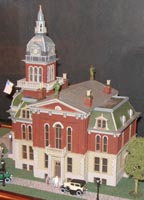 Scale model of the 1877 county courthouse
What Visitors Will See – A detailed scale model of the Victorian 1877 Beaver County Courthouse, built by Robert Smith of Beaver, greets visitors when they first enter. Vertical panels are heavily illustrated with photographs Beaver homes past and present, illustrating the design features of each time period in 50-year increments. The display features a collection of architectural artifacts such as doorknobs and decorative wood cornices salvaged from older homes that are no longer standing.
The craftsmanship evident in older architecture has the power to bring one back in time, says museum chairman Edwards McLaughlin, "to feel the lifestyle of a slower, perhaps more authentic, time of neighborhood strolls and sitting the porch with family and friends, just passing the time as the rain pours down. Here in Beaver, we are fortunate to still have the charming elements that are rarely built into communities today: decorative landscaping, walls and fences, such as the cast iron fence on Third Street, artfully enhance the our town's character."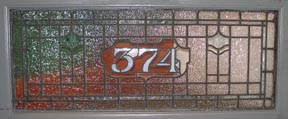 Transom glass from a now-demolished home at 374 Third Street
Overview of Design Styles – Photographs of early 19th century homes show Federal, Georgian and Greek styles, typically made of wood, and due to limited resources, simpler in design than those soon to come in the Victorian era. Industrial prosperity in the late 19th century, when Beaver emerged as a choice bedroom community for train commuters to Pittsburgh, led to a higher degree of quality craftsmanship and ornate detailing of the Victorian, Queen Anne, Italianate and Romanesque styles.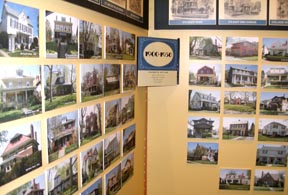 Display of colorful house photos from 50-year intervals of construction
The booming growth of communities in the early 1900s led the mass production of homes, featuring Period Revival and Beaux Arts Classic styles. Retailers such as Sears and Roebuck sold "kit homes" that were ordered from a catalogue, delivered, and then put together like a kit. Growth continued in the post-World War II era, with Renaissance, Classic Revival and Modern styles taking precedence in homes constructed from 1950 to the present day. Selected photographs educate visitors about the architectural features associated with each style.
Museum Features Adaptive Re-Use – Beaver is a treasure-filled town for the architecturally imaginative. The museum's 210 year old log house was discovered accidently, when a local builder noticed an antique newel post amid the detritus of a house mid-remodeling. Once carefully dismantled and rebuilt on the museum campus, a stone from the old Beaver County Jail was used in the construction of its chimney. Stones from the jail, as well as from the old courthouse and the old Methodist church steps, have found new homes and uses around Beaver; some are now part of the wall of a family cemetery in Brighton Township.
Hours – The museum is open Saturdays 10 a.m. to 4 p.m. and Sundays noon to 4 p.m. Admission is free. Phone: 724-775-7174; email: info@beaverheritage.org. The exhibit closes at the end of December 2010.
–text by Paula Soto