2011 SPRING EXHIBIT:
Carnival! A Display of Children's Imaginations
In partnership with the Beaver Area School District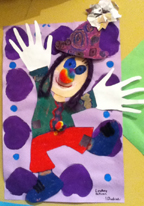 The Carnival! exhibit heralds the growth of Heritage Foundation's six year collaboration with the Visual Art Program of Beaver Area School District.  Brook Manz, Dutch Ridge Elementary School art teacher, and Ellie Taraborelli, art teacher at College Square Elementary say that the art classes' annual involvement with the museum's holiday display has been great. "The kids get a kick out of going to the museum and knowing that their art is displayed for the community to see," says Manz. 
For Carnival!, students in kindergarten through sixth grade produced projects with a circus theme.  Each grade learned about different artists, techniques and media in order to create their projects.  Through this process, they learn that history is not just found in books, but that they are a part of history as students and members of the community.  Through their involvement with the museum, they come to experience themselves as creators of and contributors to our town's rich fabric.
Chuck Close Self Portrait Value Study Graphite Grid Drawings – Sixth graders used graphite, anatomical study, and the grid and cell method for self-portraits, replicating the photo-realism style of Charles "Chuck" Close, a contemporary American painter and photographer who achieved fame through massive-scale portraits. 
Tempera Paint Tint Study and Abstracted Illusions of Self-Portraits inspired by Strange Case of Dr. Jekyll and Mr. Hyde – Robert Louis Stevenson's novella has so impacted society that it has become part of our language, with the phrase "Jekyll and Hyde" referring to someone who behaves vastly different in moral character from one situation from the next.  Sixth graders explored and rendered their hidden abstracted sides, using tempera paint to create a split illusion focusing on tint and psychological color theories.
Giant Papiér Mache Carousel Animals – Larger than life and made out of anything one could possibly find in a recycling bin, garage or attic, by sixth grade art enrichment students, these projects will become part of a permanent display in the foyer of Dutch Ridge school.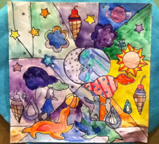 Peter Max Abstracted Carnival Compositions – Peter Max is a contemporary German-born Jewish American artist best known for his iconic "Cosmic 60s" art style, using organic and geometric shapes to create dramatic planes of vision.  Fourth graders created their own cosmic compositions, using colored pencils, water colors and markers.
Carnival Inspired Pennsylvania Dutch Fraktur Hex Designs – Fraktur is both a style of lettering and a highly artistic and elaborate illuminated folk art created by the Pennsylvania Dutch, a form of which are Hex signs.  Fifth graders created Fraktur Hex designs, incorporating carnival symbols, rather than the traditional stars, hearts, tulips and birds, while maintaining the folk art's fundamental symmetry, and incorporation of geometric and organic shapes in a radical fashion, as well as the traditional design size of approximately 14 inch diameter.  They finished their projects by writing their last names in traditional Fraktur calligraphy on a plaque beneath their designs.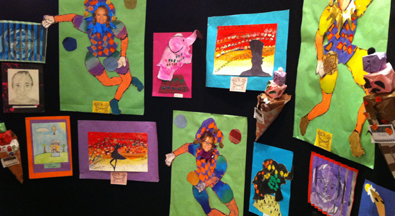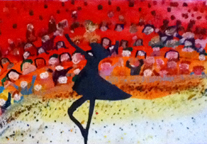 Georges-Pierre Seurat Silhouette and Pointillism Paintings – Based on "The Circus" by French Post-Impressionist painter Georges Seurat, fourth graders created circus-themed tempera paint and oil pastel compositions:  The foreground is a cut paper silhouette of circus performer of the student's choice; the middle ground uses the oil pastel pointillism technique; and the in the background, students used tempura paint pointillism to illustrate an audience.
Carousel Horses – Fourth grade art enrichment students used found objects such as sodapop cans and broken costume jewelry to construct sculptures of carousel horses.
Wayne Thiebaud Inspired Origami Paper Sculpture Ice Cream Cones – Thiebaud is an American painter most famous for his pop art renderings of sweet treats such as cake and ice cream cones.  Third graders created ice cream cone sculptures using paper weaving methods and origami, the traditional Japanese art of paper folding, which started about 17th century A.D. and has evolved into a popular modern art form. 
Pablo Picasso Mixed Medium Harlequin Clowns – Picasso, a Spanish painter, draftsman and sculptor who lived in France, is best known for co-founding the Cubist movement.  Many of his paintings involve figures which could be identified as self portraits of the artist, especially the Spanish clowns and circus performers known as harlequins. The theme of the circus and the circus performer has a long tradition in art and in literature; circus performers, known as saltimbanques, were regarded as social outsiders, poor but independent. As such, they provided a telling symbol for the alienation of avant-garde artists such as Picasso.  Third graders learned to manipulate tempera paint, colored glue, oil and chalk pastel to create the vibrant and vivid patterns that adorn performers in Picasso's work.  First graders also learned about his work by studying "Family of Saltimbanques."  They used detergent caps to stamp patterns on paper and created clowns with pattern and fabric patch decoration.
Carnival Masks –  First graders created carnival masks from recycled cereal boxes and paper mache, decorating them with symmetrically balanced details such as gems and feathers.
Polka Dot Performing Elephants –  Kindergarten students learned about Japanese artist Yayoi Kusama, famous for her polka-dotted art. They used oil crayons and watercolors to create their colorful polka-dot elephants.
Supplies – Donated items are needed for use in students' found and recycled object projects.  Ms. Manz will respond to your email with a list of needed supplies: manzb@basd.k12.pa.us.
— by Paula Soto