2007 EXHIBIT:
60 Years of Beaver's Own Canoe Trails
Beaver's own Canoe Trails was a high adventure dream of one man that became a reality for three generations. The program began in 1947 under the direction of Dr. Everett Partridge, who began taking Boy Scouts on Canadian canoeing trips. In 1951, the program went district wide. Soon it became a Beaver County wide program with its base in Beaver.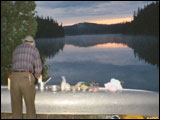 In 1965, George Wildman began the co-educational Canoe Trails program to give girls the opportunity to have the same enjoyment as boys. Today, both programs run simultaneously.
The Beaver Area Historical Museum is proud to display six decades of our local program that brings in Scouts from the entire United States. More than 3,000 youths have taken part over the years.
Our display includes a canoe purchased in 1951 by Jeff Lloyd (a member of the first district trip), photographs and newspaper articles; homemade equipment to suit the needs of the participants; and charts where former participants will be asked to sign, indicating the trips they made.
Canoe Trails' home base is still in Beaver, with a Canadian base in Kipawa, Quebec.