2005 EXHIBIT:
Guinness Book of World Records Holder Mayor Robert Linn
A Tribute to Beaver's Legendary Mayor Robert Linn
Exhibit of the Life and Career of the "Nation's Longest-Serving Mayor"
From March to July, 2005, the Beaver Area Historical Museum featured an exhibit on the life and career of Beaver Borough's 58-year chief executive, the late Robert P. Linn, who was recognized by the Guinness Book of World Records as the nation's longest-serving mayor.

The display included rare photographs, papers, campaign memorabilia and scrapbooks documenting four phases of Linn's life – as a student at Beaver High School, young businessman with Duquesne Light Company, early years as mayor, and later as a record-setting chief executive with substantial accomplishments. Among the artifacts are his official certificate from Guinness and letters from President George W. Bush and Pennsylvania Governor Dick Thornburgh, among other notable politicians.
Overview – On Aug. 22, 2004, Beaver's longtime Mayor, The Hon. Robert Linn, 95, passed away in his sleep. His death was noted in Time Magazine and on National Public Radio. Mayor Linn was recognized by the Guinness Book of World Records in 1995 as the nation's longest-serving mayor. He took office in 1946 and "was elected 14 more times in the next 58 years," said USA Today. Among his many accomplishments, the 2002 Streetscape was one of his all-time favorites, for which the Borough received the Beaver Area Heritage Foundation's "Harry S. Phillips Beautification Award." The Associated Press once quoted him saying of Beaver, "This is still one of the best places you can be."
Beginnings – Robert P. Linn was born in Burgettstown, Washington County, PA two days after Christmas, 1908, the son of Robert and Emma Scott Linn. As a boy, he moved with his family to Midland, and then to Beaver at age nine, in 1918.
He is visible in a famous panorama photo taken in the aftermath of a devastating tornado that struck Beaver in 1924, when he was 15. In the image, on display at the museum, he stands with his bicycle.

He graduated from Beaver High School in 1927, where he competed on the school's track team, and then from Grove City College in 1931.
A Start in Teaching – Mayor Linn began his career by teaching for six years at Beaver Falls Junior High School. He then joined Duquesne Light Company in 1938, where he spent the next 36 years until retirement in 1974. His first work at Duquesne Light involved handling customer complaints. Said the Pittsburgh Post-Gazette, his technique for dealing with irate customers was, "Just let them yell."
Later, he served the company by working with high school home economics teachers to educate young women on how to "use electrical appliances at home when they got married." He retired in 1974 as supervisor of employee benefits. Mayor Linn loved people, and his passion was to socialize. For many years, he ran the scoreboard for football games at Beaver High School.
He married Eleanor Thompson, and they had four children: Eleanor Hesser, Beth Mitchell, Mary Hockenberry and Marty Scheidmantel. Sadly, his beloved wife died in 1985.

Delving into Politics – In the fall of 1945, Linn was approached by a friend for suggestions for the town's new burgess, the equivalent of mayor at that time. He ended up as the candidate, and at age 37, he ran on the Republican ticket, opposing longtime fire chief Dan Moore. He won the part-time job, and held it for the remainder of his life.
His duties involved overseeing the police force, approving ordinances and casting votes to break ties on borough council.
The job was not easy, and had its share of controversy. He opposed locating the new county jail in the heart of Beaver, on the site of the old jail dating to before the Civil War. He also was in the center of dispute over banning outdoor burning in town, and the location of the new Third Street parking garage next to the Beaver County Courthouse. But in all things, he had the town's best interests at heart, and was always a great supporter of the Beaver Area Heritage Foundation and Historical Museum.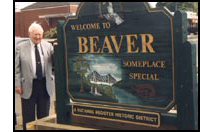 A Lifetime of Accomplishments – Over the years, Mayor Linn saw Beaver grow and mature, and yet retain its Victorian charm and quality of life. In 1996, the town was named a National Register Historic District.
In 1995, the Guinness Book of World Records formally recognized him as the longest-serving mayor in the United States. Said the Beaver County Times, he "didn't appear in the book, however, because it had already gone to print." He was listed for the first time in the 1998 edition. On July 3, 2001, he received a letter of congratulations from President George W. Bush.
Today his name adorns "Linn Square," the southwestern-most park in Beaver, along River Road between Navigation and Buffalo Streets. His likeness also appears on the timeline mural at the Historical Museum.
Mayor Linn's passing in 2004 was news throughout Pennsylvania and the nation. In addition to other tributes, a photo of him by the Post-Gazette was included in USA Today's annual feature, "2004: The Year in Pictures."